Wii U titles miss out on UK top ten in launch week
Far Cry 3 held from first place by BLOPS 2, Nintendo Land in 11th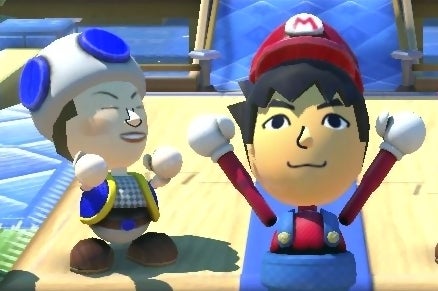 No Wii U titles have managed to secure places in the UK top ten this week, with the highest placing, Nintendo Land, finishing up in eleventh. New Super Mario Bros. U is in fourteenth. Ubisoft, which has the highest number of third-party launch games, has the best selling third-party Wii U title, with ZombiU in seventeenth.
Some details of hardware sales were also published alongside the software charts, revealing a heavy preference for the 32GB Deluxe bundle, with only ten per cent of hardware sales attributed to the basic 8GB model. The remaining 90 per cent was split between a 60 per cent share for the Nintendo Land bundle and 30 for ZombiU. The numbers from which the software chart positions below were calculated include those games bundled with hardware packages.
Far Cry 3 was held in second on the chart by another week of strong sales from Call of Duty: Black Ops 2 whilst FIFA 13 held third, allowing Hitman: Absolution to slip to fourth. Far Cry has achieved the ninth biggest opening week so far this year, but failed to beat last week's eighth best for Hitman.
All sales data and information courtesy of GfK Chart-Track.
| Last Week | This Week | Title |
| --- | --- | --- |
| 1 | 1 | Call of Duty: Black Ops 2 |
| New entry | 2 | Far Cry 3 |
| 3 | 3 | FIFA 13 |
| 2 | 4 | Hitman Absolution |
| 4 | 5 | Assassin's Creed 3 |
| 7 | 6 | Just Dance 4 |
| 6 | 7 | LEGO Lord Of The Rings |
| 5 | 8 | Halo 4 |
| 8 | 9 | Skylanders Giants |
| 9 | 10 | Need For Speed Most Wanted |
| New Entry | 11 | Nintendo Land |
| 10 | 12 | Dishonored |
| 15 | 13 | Football Manager 2013 |
| New Entry | 14 | New Super Mario Bros. U |
| 11 | 15 | WWE 13 |
| 12 | 16 | Moshi Monsters: Moshling Theme Park |
| New Entry | 17 | ZombiU |
| 18 | 18 | Medal Of Honor: Warfighter |
| 16 | 19 | New Super Mario Bros. 2 |
| Re-entry | 20 | Forza Horizon |