Wii U shortage helping Xbox 360, PS3
Xbox 360 outsold Wii and Wii U combined during Black Friday week. Analysts chime in...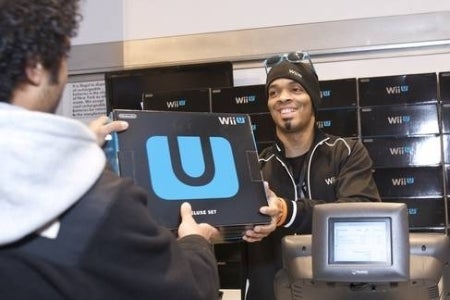 Yesterday's news that Microsoft sold 750,000 units of Xbox 360 hardware in the US during Black Friday week shows just how strong the platform still is this late in the cycle, but it could also mean that consumers looking for Wii U and not finding one decided to go with the cheaper option this holiday. Is it bad news for Nintendo? Not really, say analysts.
"If we had to estimate, about 400k units of the 750k Xbox 360 units were from new consumers who did not own an Xbox 360 prior vs. the Wii U where 400k consumers did not have a Wii U prior. So in terms of who picked up the most new consumers, it's probably a dead heat. And of course there were about 200k to 300k consumers who couldn't even purchase a Wii U due to shortages, so I do have to wonder if the Xbox 360 and PlayStation 3 picked up some users due to the Wii U shortage," observed EEDAR's Jesse Divnich.
Reading into it anything beyond this holiday would be a waste of time, he added: "It's a little too early for us to make any declarations on the Wii U's long-term potential. They are off to a fair start and it will probably take another month to gauge where demand may be long-term for the Wii U."
RW Baird's Colin Sebastian agrees. "I do think the Wii U faces a lot of challenges, but one week's worth of data isn't enough to put the nail in the coffin," he said.
"Microsoft's short-term MSRP reduction was and is aimed directly at undercutting Wii U sales out of the gate"

Lewis Ward
Sony has yet to release its Black Friday numbers, but both Sony and Microsoft have been offering attractive bundles to consumers this holiday season, and the fact is that the economy is still depressed and consumers want value. Sure, Wii U is supply constrained, but for some, spending less money is just too appealing.
"The economy is still a bit weak, and consumers are looking for value. PS3 and Xbox 360 bundles are priced for value and are more likely to be gift purchases," noted Inside Network analyst Billy Pidgeon.
Wedbush Securities' Michael Pachter added, "I think the strong Xbox 360 performance tells us that consumers remain price sensitive, and the recent cuts/bundles for the 360 present a compelling value. Once Wii U supply increases, I expect the console to sell better. That may not happen until next year."
IDC research manager Lewis Ward acknowledged that he thinks "Microsoft's short-term MSRP reduction was and is aimed directly at undercutting Wii U sales out of the gate" but he also remarked that what we're seeing now in the discrepancy between Xbox 360 and Wii U is nothing unusual.
"I never expected Wii U to outsell the Xbox 360 or for that matter the PS3 this holiday season. Nintendo effectively sold out the available Wii U units during the Black Friday week so it remains to be seen how many total units will be available at retail and will sell before the end of the year. Look at this another way: In late 2006, PS2 sales exceeded those of the Wii by a healthy margin - does that mean Nintendo should have thrown in the towel on Wii? Of course not. We've just seen the launch of brand new platform that will have growing pains and it's like judging a book by its cover in the extreme to draw long-term conclusions from Black Friday sales alone," Ward continued.
Ultimately, we'll have to wait several more months to properly assess how Wii U is faring, but strong interest in Xbox 360 could pose a problem for Nintendo, noted DFC Intelligence's David Cole: "Long-term the Xbox 360 doing well could be a problem because many of those buyers are potential Wii u consumers."