Wealth of new content coming to Xbox LIVE
Gold users worldwide to receive TV and service apps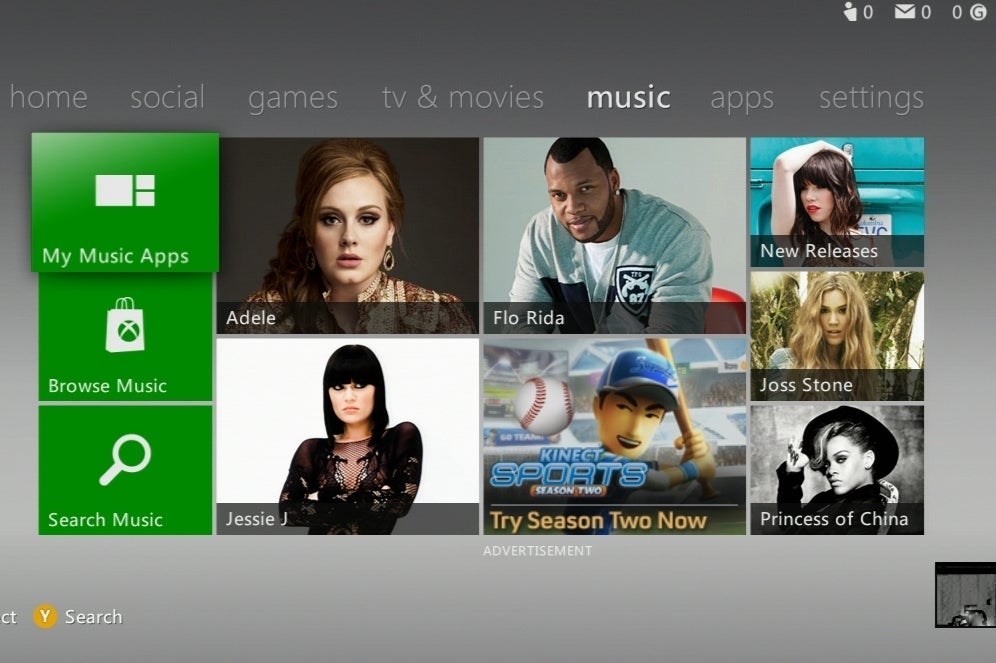 Gold users of Microsoft's Xbox LIVE are to receive a new swath of apps and TV channels for the service, with territory specific offerings coming to consoles across the globe.
Announced via the company's Major Nelson blog, over 50 TV channels and services are featured, as well as some more esoteric brands, including Sainsburys for the UK and Maxim in the US.
All the channels and apps will be available between now and Spring 2013, with several launching today. A full list of the services is below, more details are available at Major Nelson.
1. All3M (United Kingdom, United States)
2. Ameba TV (Canada, United States)
3. ARTE (Germany, France)
4. Azteca (Mexico)
5. Canalplay Infinity (France)
6. CBC's Hockey Night (Canada)
7. CrunchyRoll (Majority of LIVE Regions)
8. Deezer (Majority of LIVE Regions)
9. Eredivisie Live (Netherlands)
10. Fightbox (Austria, Germany, Spain, France, Ireland, Italy, Sweden, United Kingdom)
11. Flixster (United States)
12. GameTrailers (Australia, Canada, Germany, Spain, France, Italy, Japan, Mexico, United Kingdom, United States)
13. Globosat Muu (Brazil)
14. Gulli Replay (France)
15. HBO Nordics (Denmark, Finland, Norway, Sweden)
16. IndieFlix (Australia, Canada, Ireland, New Zealand, United Kingdom, United States)
17. Livesport.tv (Austria, Belgium, Germany, Denmark, Spain, Finland, France, Ireland, Italy, Netherlands, Norway, New Zealand, Sweden, United Kingdom)
18. Machinima (Majority of LIVE Regions)
19. Maxim (United States)
20. MTV (United States)
21. MyTF1 (France)
22. MyTF1VOD (France)
23. Napster (Germany, United Kingdom)
24. Pathe Thuis (Netherlands)
25. PBS (United States)
26. PopcornFlix (United States)
27. Rai TV (Italy)
28. Sainsbury (United Kingdom)
29. Saraiva (Brazil)
30. SBS (Netherlands)
31. SF Anytime (Denmark, Finland, Norway, Sweden)
32. Slacker Radio (Canada, United States)
33. SPORT1 (Austria, Germany)
34. The CW Network (United States)
35. Televisa (Mexico)
36. TV3 (Spain)
37. Viaplay (Denmark, Finland, Norway, Sweden)
38. Vidéo à la Demande d'Orange (France)
39. Vimeo (United States)
40. VIVO Play (Brazil)
41. Watchever (Austria, Germany)
42. Zattoo (Germany)
43. Ziggo (Netherlands)
44. ARTE (Germany, France)
45. CinemaNow (Expanding to Canada)
46. CNET (United States, Canada)
47. Karaoke (All LIVE regions, excluding Japan and United Arab Emirates)
48. Maxim (United States)
49. Napster (Germany, United Kingdom)
50. SkyDrive (All LIVE regions)
51. SPORT1 (Austria, Germany)
52. VEVO (Expanding to Spain, Italy & France)
53. Zattoo (Germany)