VR dev already dropping price
Owlchemy Labs reduces HTC Vive title Job Simulator from $40 to $30 after just two weeks on sale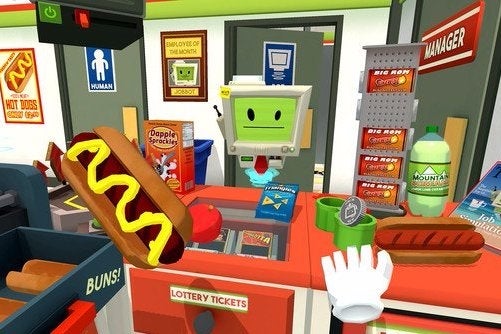 While virtual reality hardware seems able to command a premium price point, customers may not be willing to extend the same courtesy to software. Early concerns about price pressure on VR software have received some validation this week as Owlchemy Labs dropped the price on its HTC Vive title Job Simulator from $40 to $30 just two weeks after the game and VR headset launched.
In a post on the game's Steam forum explaining the decision, Owlchemy said the game's original price reflected a few factors, including the limited installed base and the need to recoup development costs of 15 people working on the game for a year and a half.
"The community has been sincere and honest with their feedback, and so we're responding," the company said.
While 87 percent of the game's 77 user reviews on the Steam page are positive, price is a common complaint among the negative ones. Owlchemy also established a sub-forum on the game's Steam community discussion board specifically for pricing complaints.
To avoid burning bridges with people who bought the game at its launch price, Owlchemy Labs is temporarily offering full refunds to existing owners, regardless of how much they have played, and encouraging them to repurchase the game at its lower price.