Valve removes another game from Steam for "pornographic" content
You Must be 18 or Older to Enter dev describes "problematic cycle" perpetuated by Valve's stance on sex
Valve has removed another game from sale on Steam on the grounds of sexual content: Seemingly Pointless' You Must be 18 or Older to Enter, which features scenes of sec depicted with ASCII art.
In a long and detailed post on Gamasutra, Seemingly Pointless co-founder James Cox said he discovered that the game had been removed not from Valve, but from the confusion of a potential player who had failed to find it on the Steam store.
Cox sent an email to Valve, and received a response later the same day, "informing us they had decided that they view our game as porn. Less than two months after its Steam launch, Valve banned You Must be 18 or Older to Enter."
As a free download, the removal of You Must be 18 or Older to Enter was not as potent a commercial threat for Seemingly Pointless as a similar event would be for another developer. Indeed, Cox admitted that the game "lived a good long full life" on Steam, and Valve's decision, "bruised my ego, but not my wallet."
"If the game had monsters, or violence, or death, it probably wouldn't have been banned from Steam"
However, Cox did take issue with the implications of a game like You Must be 18 or Older to Enter having no place on PC gaming's premier storefront. It is, "a non-traditional horror game without violence, death, monsters, nor using mental illness as a scapegoat. You Must be 18 or Older to Enter is a horror about being a kid in the 1990s and looking at porn for the first time.
"Occasionally press would reach out to us to talk about the game, and I would often use the opportunity to promote sex positivity, discuss my desire to subvert the harmful genre tropes of horror... I like to call it a tangible horror game; a frightening experience many people agree is 'too close to home'."
In his article, Cox establishes that the game is not pornography "by definition or US Law", and highlights that a conscious attempt was made to distance its depictions of sex from sex itself. "By using ASCII art, it's hard to fully interpret any image in the game," Cox said. "It sits the player in the role of a kid exploring these adult worlds: curious, confused, anxious, caught."
He added: "The legal reasons for why the game isn't pornography are long winded, but the gist is that the game has artistic merit beyond the individual ASCII images; and the content of the images are debatable in both what they depict and purpose."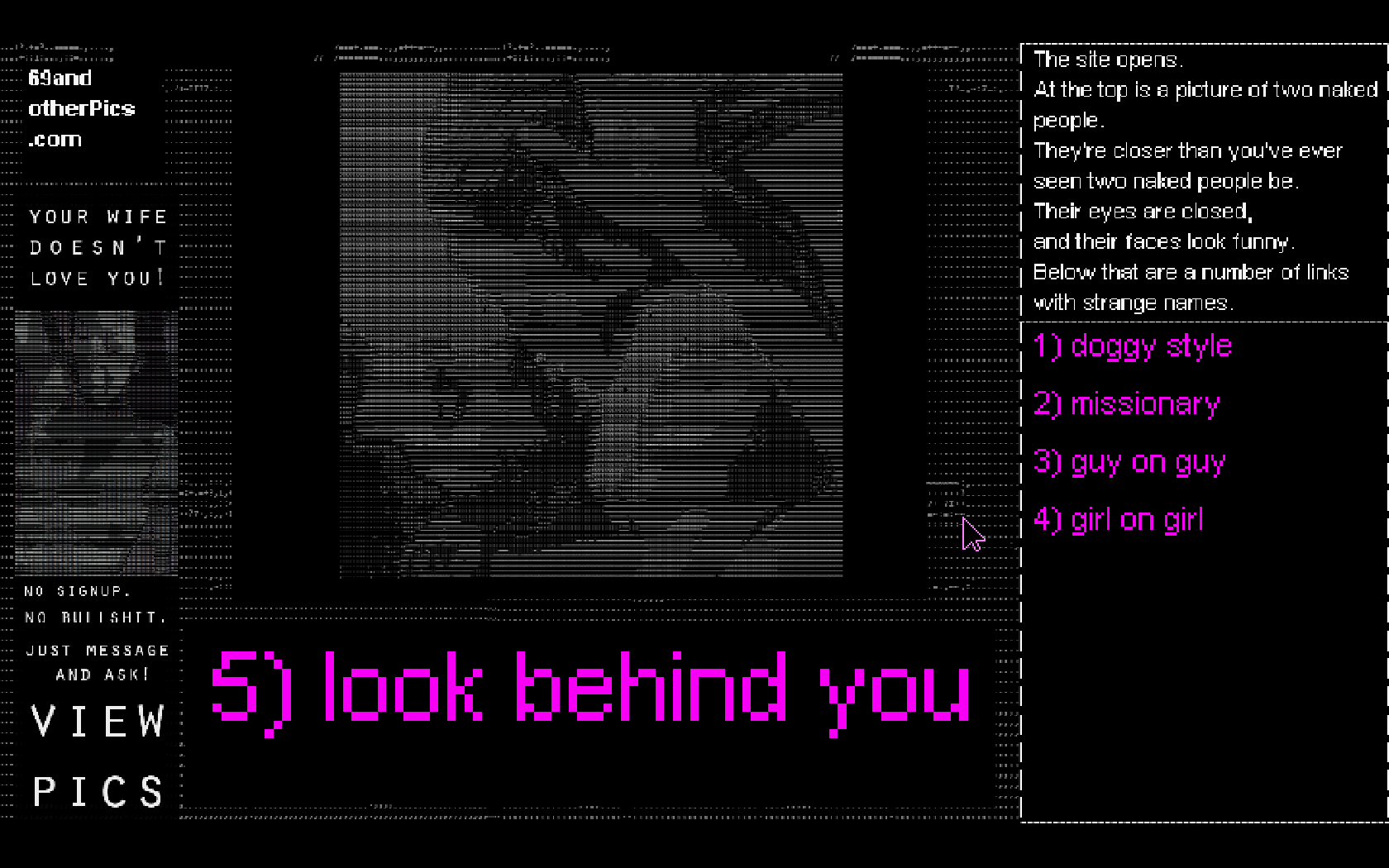 The fact that You Must be 18 or Older to Enter breaches Valve's standards is an issue for independent developers, Cox posited. Chiefly, it closes off new creative paths that would lead to different kinds of games, which would help products to stand out in a very crowded marketplace. "To survive, we need to embrace making new experiences," Cox said. "Ones that players haven't encountered before."
In taking this stance, Valve is perpetuating a "problematic cycle", in which its decisions directly inform the types of experiences that developers can offer to gamers, which in turn informs what gamers see as the limits of the medium.
"This means gamers have limited language for addressing games, and that language is curated by the games they play and have access to," Cox said. "If a game like You Must be 18 or Older to Enter is considered porn by a platform, then players lose a non-violent alternative horror. If anyone trying to expand the palate of experiences is being treated poorly on account of untempered yet taught player behavior, that developer is liable to leave the community."
As other developers have pointed out when discussing Valve's attitude towards sex in games, Cox noted that, "if the game had monsters, or violence, or death, or used other traditional horror aspects over childhood curiosity, it probably wouldn't have been banned from Steam."
You Must be 18 or Older to Enter is still available on Game Jolt and Itch.io.
Cox's thought-provoking article can be read in full on Gamasutra, and it's well worth your time.