Valve follows Oculus' lead with new Vive controller prototype
Emphasis on hand presence would eradicate a key difference between the two leading platforms in high-end VR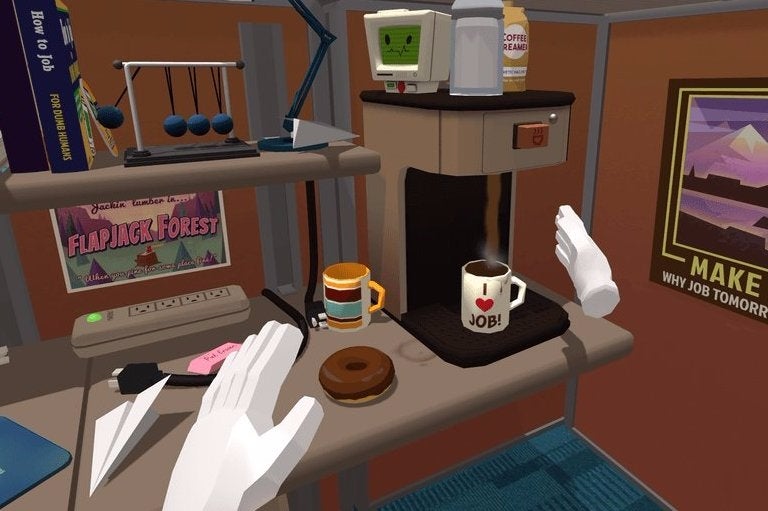 Valve has offered Steam Dev Days attendees a first look at the future direction of the Vive controller, and it's somewhat reminiscent of that taken by Oculus with Touch.
The developer focused event started in Seattle yesterday, and images of impressions of the new Vive controller started flooding out almost as soon as attendees had the opportunity to try them. At present, Vive's wand-shaped controller needs to be gripped at all times, with finer movements like gripping objects controlled by trigger presses - an odd design choice in a medium where breaking immersion is regarded as sacrosanct. However, Valve's new designs seem to be targeted at addressing this flaw.
"This new controller isn't just another toy - it's a new form of input that is the most intuitive I have encountered"
While the hardware shown at Dev Days is a prototype, it suggests that Valve will be shifting emphasis toward hand presence. The new Vive controller is strapped to the hand, allowing it to rest in the user's palm. An array of sensors on the back of the hand allow more detailed simulation of movement, specifically the user opening and closing their hand.
Developers speaking to UploadVR offered some insight on the impact of the new design on user experience. One of those developers, Eva Hoerth, stressed that it was no longer necessary to, "think about input."
"All I had to do to grab an object was reach out and grip, no buttons required," she said. "If I wanted to throw, all I had to do was pull back and release, as I would in the real world. I was still scared that I would accidentally chuck the controller in someone's face, but that thankfully didn't happen.
"This new controller isn't just another toy - it's a new form of input that is the most intuitive I have encountered."
This is an exciting development for the future of the Vive, and it is broadly similar to the direction that Oculus VR has taken with its Touch controllers. Speaking to GamesIndustry.biz at Gamescom in 2015, the first year that Touch was demoed for the press, CEO Brendan Iribe explained that the controllers were designed to facilitate hand presence. He also pointed out that Vive and PlayStation VR had opted for wand-based inputs, where the necessity of constant grip would be an ever present immersion breaker.
"We prototyped VR input for years, and we figured out which path we wanted to go to quite a while ago," Iribe says. "We were really confident that hand presence - seeing your hands, the things that you stare at most all day long - was going to be the right way, and that we may be the only people that went that way. It's a differentiator for us that I think's gonna add a lot of value, and attract people to target the Rift with unique experiences and to buy the Rift to have those experiences.
"We don't believe in wand-based input for the future of VR. We really believe in hand presence, in hand input, so we let everybody else go"

Brendan Iribe, Oculus CEO, in 2015
"Frankly, we wanted to wait and let other people show off their input, and hitch to wand-based input. We don't believe in wand-based input for the future of VR. We really believe in hand presence, in hand input, so we let everybody else go."
This isn't a matter of one-upmanship, though, not least because Oculus has also been catching up to Valve in terms of allowing room-scale VR experiences. But the fact that VR's most influential companies are thinking along increasingly similar lines will be a huge benefit to the developers who have already invested so much in establishing the market. When we spoke to Jesse Schell at GDC this year, he cited the Vive and Rift controllers as a reason for studios to target just one platform in order to make the best possible experience. "Even the difference between the Vive controllers and the Oculus controllers," he said. "There's enough difference there you really have to stop and think. There's a lot of subtle details."
Whether any VR developer can justify focusing on a single platform at this stage is another matter, though. There is very little reliable data on just how many Rifts and Vives have been sold, but the fact that VR studios have only just started to reach $1 million in sales revenue on a launch month suggests a small marketplace - and it's worth noting that the game in question, Survios' Raw Data, is listed as having only 33,000 owners by Steam Spy.
According to Dan Adelman, who is attending Dev Days, Valve claimed that it is adding 1,000 VR users every day, all of whom are buying from a marketplace with more than 600 apps.
600 VR apps (so far) all competing over those 365k users. If each user buys 5 games, avg sales/title will be about 3k units. #SteamDevDays

— Dan Adelman (@Dan_Adelman) October 12, 2016
Vive is just one platform among a growing number, of course, but any developer targeting high-end headsets will be glad to see any obstacle to efficient multi-platform development disappear. These new Vive controller designs are solid evidence of that happening.