Ustwo to pull Papa Quash in response to cloning accusations
J.S. Joust developer feels he didn't sanction similarities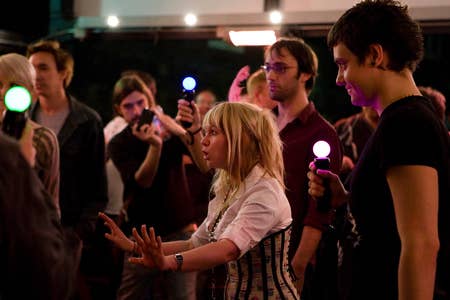 Papa Quash, the iPhone app which has been embroiled in controversy this week after accusations of cloning, will be pulled from the App Store "ASAP", says developer Ustwo.
Ustwo's marketing director, Steve Bittan, told Appside that "we are pulling the app ASAP," after a torrent of negative feedback on social networks from developers yesterday.
Papa Quash made headlines when attention was drawn to the similarities between it and critically acclaimed, but as yet commercially unavailable, Johann Sebastian Joust.
Both J.S. Joust and Papa Quash are games where players must hold the controller still whilst opponents try to jostle it from their grasp. For J.S. Joust, players use Move controllers, for Papa Quash it's the iPhone.
Ustwo developed Papa Quash on behalf of Sam Pepper, an ex-Big Brother contestant who claims to have discussed the similarities with Johann Sebastian Joust studio Die Gute Fabrik and been given the go-ahead. As Ustwo told Gamasutra "Papa Quash was a concept from Sam Pepper. We made the app for Sam Pepper. It's his app. Not ours. It's not an Ustwo app. It's a Sam Pepper app."
However, Bittan has been speaking to Die Gute Fabrik lead Doug, who "feels that he did not give Sam the permission," contributing strongly to the decision to withdraw the game from sale.