Unity report shows mobile games ad revenue grew 8% in 2020
Sports games are the only genre who didn't see an ad revenue increase in 2020, impacted by the lack of real-life events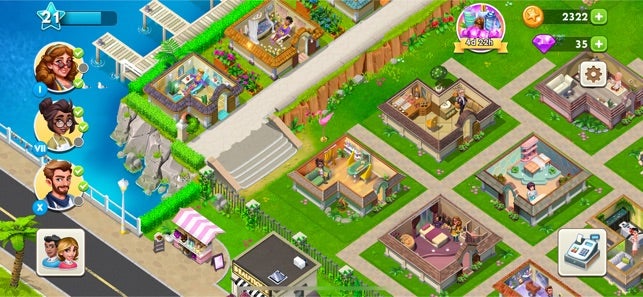 Day one in-app purchases grew 52% in 2020, while mobile game ad revenues increased 8%, Unity's latest gaming report showed, particularly looking at the impact of COVID-19 on players' usage.
The report indicated that the volume of HD gaming -- defined by Unity as "video games on PC, macOS, and other desktop platforms with graphics typically rendered in high definition" -- increased 38% in 2020.
Mobile games particularly spiked at the beginning of the pandemic, Unity noted, but soon settled, whereas HD games had an initial rise and remained steady, before growing significantly again during Q4 (see graph below).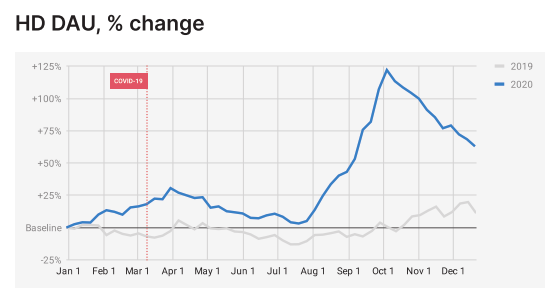 In terms of mobile genres, card games and trivia games had a significant ad revenue growth in 2020 -- respectively 108.1% and 87.5%. Sports games are the only genre who didn't see an ad revenue increase in 2020, impacted by the lack of real-life events, and saw a 26.7% decline.
Players have also spent more time playing on weekdays than the previous year, the immediate consequence of lockdown measures.
"This trend held well beyond the onset of the pandemic," Unity said. "The difference between weekday and weekend gaming increased by 52%, in weekday gaming's favor."
The report also gave a glimpse into Unity Technologies' business, with the company saying it has 2.8 billion monthly active end users, as 61% of mobile game developers use Unity, followed by native/custom engines at 15%, and GameMaker at 5%.
The data of this report was gathered by Unity from its user base of over 60,000 developers and 300,000 apps though it did mention that it "omitted information from this report that would individually identify any single game or developer." So it's unclear exactly how many games and studios were analysed for this report. Unity added it also "leveraged data from Unity's deltaDNA platform, Vivox, and Multiplay services, all part of Unity Operate Solutions." The data was gathered from January 2020 to December 2020.