Uncharted 4 is the best game of 2016 - Metacritic
PS Vita, 3DS and PC beat PS4 and Xbox One
PS Vita, 3DS and PC games had the highest average scores on Metacritic, the review aggregator says.
PC games scored an average of 70.8, with some 450 titles rated. It is the only home platform to see its average score rise year-on-year, up from 70.6 in 2015. Five exclusive games on the machine received a score of 90 or above, whereas 46 exclusive games received a review average of 75 or above - higher than any other platform.
In total, there were 178 PC games that received positive reviews in 2016 - more than in any previous year since Metacritic has conducted this analysis.
However, it was Sony that published the highest rated game of the year in the form of Naughty Dog's Uncharted 4: A Thief's End. The title scored 93, which is one point ahead of Inside (Xbox One), Out of the Park Baseball 17 (PC) and The Witcher 3: Wild Hunt - Blood and Wine (PC).
In terms of bad games, the lowest scoring title was Ghostbusters from Activision (30) followed by Dino Dini's Kick Off Revival (31), Soda Drinker Pro (31), Weeping Doll (34) and Langrisser Re:Incarnation -TENSEI- (35).
Here are the top scoring games of 2016 according to Metacritic: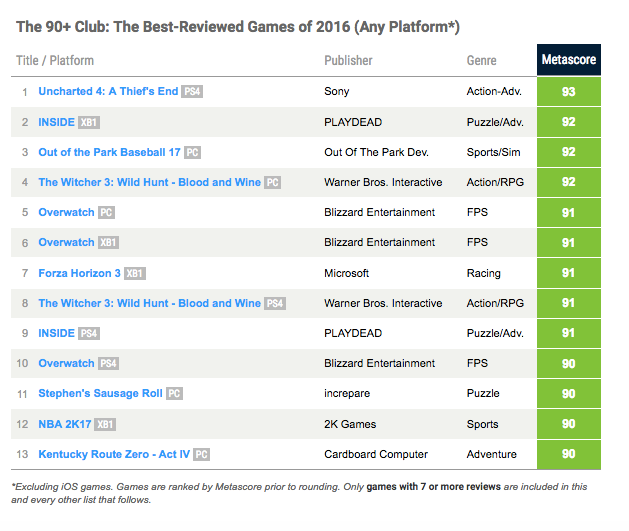 PS4's average review score was 69.1%, which is down on its average from 2015 when it was 70.5%. Also, fewer than 36% of all PS4 games released in 2016 received positive critical reviews - that figure was 42% in 2015 and 50% in 2014.
There's a good reason for this, and that's the increase in the number of games released on the platform. 445 games were rated on Metacritic for PS4 this year, versus just 276 in 2015. That increase in quantity has sadly impacted the quality. There were, however, 13 PS4 exclusives that scores 75 or higher, which is up over the 11 recorded in 2015.
Over on Xbox, and Microsoft's machine has a slight advantage of Sony's in terms of average score - sitting at 69.8 (although again, that is down from the 70.4 posted in 2015). There was also a decline in the number of positive scores, down from 40.7% in 2015 to 36.1% in 2016.
In terms of exclusives, there were generally fewer high profile launches on Xbox One this year, and so the number of positively received exclusives dropped from seven in 2015 to three in 2016. Forza Horizon 3 and FRU were among the top scoring titles. Just 296 Xbox One games were reviewed according to Metacritic.
It was a poor year for Wii U. No games scored over 90 on the platform, and only eight scored 75 or above. Just 44 games were rated on Wii U, down from the also very low 80 in 2015. The average review score for Wii U games was 68.5, which is at least a mild improvement on the 67.1 of 2015.
Interestingly, it was the handheld games that performed best critically - the average 3DS game score was 71.9 (up from 69 in 2015) and PS Vita was technically the best performing platform with an average of 73.1 (up from 70.7 in 2015). Both machines had very few new game launches, however - 57 on 3DS and 46 on Vita. There was also a real lack of exclusives on Vita, whereas 3DS had 20 exclusives that scored 75 or higher.
In fact, despite having the lower average score, out of the Top Ten portable games released last year, 3DS accounted for 9 of the 10.