UK Xbox One first week sales double Xbox 360
Day one FIFA 14 bundle powers EA game to top of the charts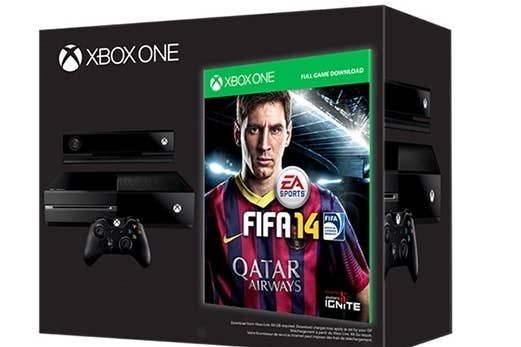 First week sales of the Xbox One are double those of the Xbox 360, accounting for 80 per cent of all console hardware sold over the weekend.
Powered by the Xbox One's day one bundle, Electronic Arts' FIFA 14 sailed to the top of the UK charts to become the best selling game, with sales up 328 per cent.
Of the Xbox One exclusive titles, Forza Motorsport 5 was the highest charting, making its debut at 5, behind Call of Duty, Battlefield 4 and Assassin's Creed IV: Black Flag.
Capcom's Dead Rising 3 made its next-gen debut at seven, while Nintendo's 3DS title The Legend of Zelda: A Link Between Worlds entered the charts at nine. Microsoft and Crytek's Ryse: Son of Rome entered the charts at ten.
01 FIFA 14
02 Call of Duty: Ghosts
03 Battlefield 4
04 Assassin's Creed IV: Black Flag
05 Forza Motorsport 5
06 LEGO Marvel Super Heroes
07 Dead Rising 3
08 Grand Theft Auto V
09 The Legend of Zelda: A Link Between Worlds
10 Ryse: Son of Rome
11 Minecraft Xbox 360 Edition
12 Skylanders Swap Force
13 Need for Speed Rivals
14 Just Dance 2014
15 Disney Infinity
16 Batman Arkham Origins
17 WWE 2K14
18 Professor Layton and the Azran Legacy
19 Tomb Raider
20 Pokemon X