UK Price cut confirmed for Xbox One
Retail at £399 from February 28 - with Titanfall bundle confirmed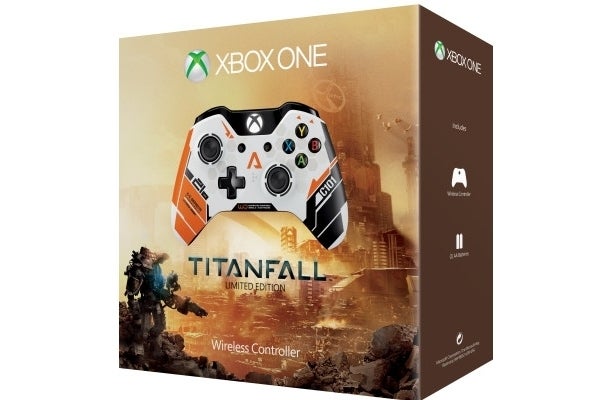 Microsoft is dropping the estimated retail price of the Xbox One in the UK after just three months on shelves, and has confirmed a new, global Titanfall bundle in the same announcement.
The console will sell for £399 in the UK from February 28, a £30 reduction from its current price of £429. Prices in other regions will remain unaffected. A limited-edition Titanfall bundle has also been confirmed for global retail, which will include a digital version of Respawn's mech-based shooter and a month of Xbox LIVE Gold membership for exactly the same price.
"The price adjustment is UK only," said Microsoft's UK marketing manager Harvey Eagle. "The inclusion of Titanfall is a global promotion, so you will see Titanfall included in regions outside the UK.
Whilst the One has not sold as quickly as rival platform PS4 in the UK, it has been selling at more than twice the rate the Xbox 360, which UK marketing manager Harvey Eagle says has ensured that the machine is already "commercially successful".
"At Xbox, we believe there's never been a better time to join the new console generation," said Eagle via a press release. "To help our fans do just that, Xbox One will be available at the new UK estimated retail price of £399.99 from February 28th. And while supplies last, fans will also get Titanfall - the most anticipated game of the year - included in the box."
"The price adjustment is UK only. The inclusion of Titanfall is a global promotion, so you will see Titanfall included in regions outside the UK"
Those supplies are digital, rather than physical copies, but talking to Eagle about the deal, GamesIndustry International was told that there is a cap on the numbers available, although Eagle wouldn't be drawn on exact figures.
"It's a hard number, a while stocks last offer," Eagle confirmed. "I'm not able to share the specifics of volume with you, but I will say that you should think it terms of the order of magnitude of the Day One consoles, where they came with a copy of FIFA or in some cases, Forza included. It's of that order of magnitude. Start pre-ordering today, it's important to do that in order to ensure you get hold of one, because we see this being extremely popular.
"I'm not going to comment on the specifics of the individual lines of business, as it were, or on console costs, but the way we look at it is very much as an ecosystem. It's about selling as many consoles as we can to create that install base, then where possible, trying to attach games, accessories, LIVE subscriptions and transactions to those customers. That's a business model that's worked well for us with the Xbox 360 and will hopefully continue with the Xbox One.
"The UK is obviously an important territory for anyone in the console business - it's the second biggest market in the world, so I don't think we're any different to anyone else in terms of placing high value on the UK as a territory. This is about it being the right time to offer the best value we can - to adjust the price point and get it down to £399 in support of Titanfall, which as you know is one of the hottest games on any platform. We've seen two million people play the beta and the feedback we've had has been incredible really."
The deal is the second collaboration between Microsoft and EA, which began with a FIFA 14 bundle for day one pre-orders at launch. Eagle indicated that the partnership will bear more fruit still.
"We announced an Xbox partnership with EA back in May," he clarified. "As part of that partnership we're working very closely together - FIFA was one offer we were able to make and Titanfall is the next in that line that we're able to offer as part of it."
UK retailers were finding out about the price drop today, and Harvey intimated that shops could be reimbursed for existing inventory bought the previous price. Consumers, however, will not, with Microsoft telling press that there would be no deal to compensate early adopters with discounts or free games - a tactic which Nintendo adopted after dropping the price of the 3DS soon after launch.
"Unfortunately we can't offer a retroactive refund," said Eagle. "We thank them very much. We think we've offered great value to those customers who've been playing on and enjoying their consoles since Christmas."