Ubisoft's For Honor tops US game sales during tough February - NPD
Software sales fell 14% and hardware sales dropped 30% year-over-year
The NPD Group has released its latest industry sales report, and it would seem that February picked up right where January left off: with big dips in hardware spending.
Total hardware sales amounted to $204 million, down 30% from last year, and according to NPD industry analyst Mat Piscatella, "Console hardware accounted for 82 percent of the total declines as both average retail pricing and units sold fell versus [a] year ago." Next month's report, which will factor in Nintendo Switch's big launch performance, should tell a different story.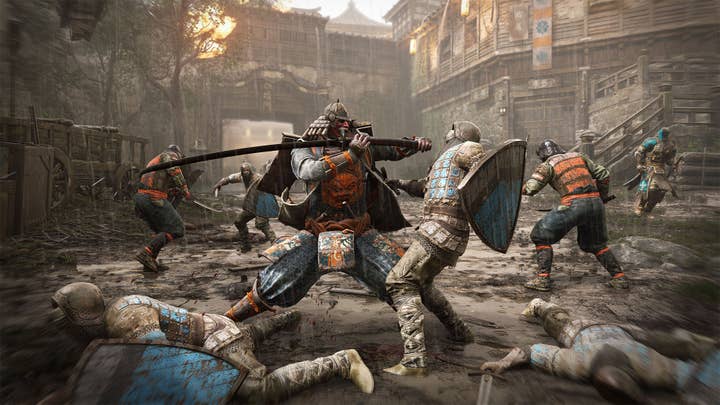 Hardware, which was led by PS4 yet again, wasn't the only declining segment. Console and portable software dropped 14% to $344.2 million, PC software fell 26% to just $25 million, while accessories fell 21% to $150.8 million. All told, industry sales took a 21% hit, declining from $918.7 million to $724 million.
Interestingly, while all eyes have been on Switch, in the month before Switch's launch, Nintendo 3DS enjoyed a bump of its own. "In the portable space, 3DS unit sales were up 77 percent versus January 2017 driven by the 3DS New Galaxy Style model and the 3DS Limited Pikachu Yellow model," Piscatella explained.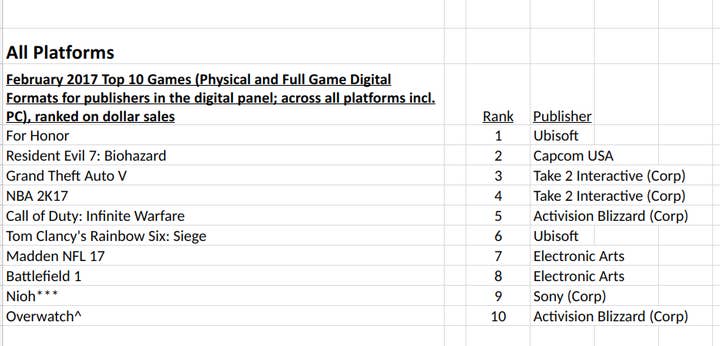 February was certainly sluggish on the whole, but the bright spot was Ubisoft's new IP, For Honor, which was one of only two new game launches in the month to make the top 10 (the other being PS4 exclusive Nioh from Team Ninja).
"Ubisoft's For Honor was the best-selling game of February 2017, despite having only 12 days in market during the month," observed Piscatella.
*** No digital sales included
^ Battle.net sales not included