Ubisoft holds steady in Q3 despite competitive holiday
CEO Yves Guillemot anticipates "record performances" for both Q4 and the full fiscal year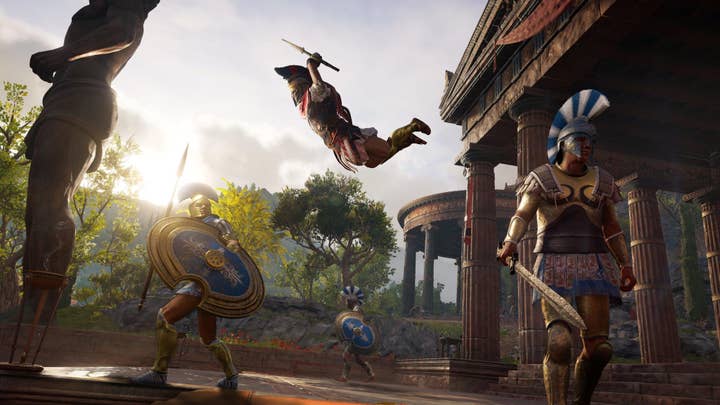 Despite a heavily competitive holiday season, Ubisoft seems to have pulled through on target...mostly. In its Q3 earnings call, the company reported a steady quarter led by Assassin's Creed: Odyssey, and continued to lean into optimism for the upcoming release of Tom Clancy's The Division 2.
Ubisoft's Q3 net bookings were down 16% year-over-year at €605.8 million ($684.3 million), but were nonetheless ahead of the company's target of €600 million ($678 million). Sales were €18 million ($20 million) lower than targets at €562 million ($635 million), but Ubisoft explained this as being due to a later clarification on International Financial Reporting Standard (IFRS) 15 rules, which took effect in January of 2018.
In the net bookings breakdown for Q3, one interesting shift is that net bookings on PC, mobile, and Nintendo Switch are considerably up year-over-year, while PS4 and Xbox One are both down. 24% of Q3's net bookings were on PC vs. 15% for Q3 last year, while mobile moved from 3% to 8% and Switch went up from 6% to 11%.
That same IFRS 15 clarification that pushed Ubisoft below sales targets also affected the company's full-year targets slightly, dropping sales expectations from €2 billion ($2.3 billion) to €1.9 billion ($2.1 billion). Net bookings targets were confirmed at €2.05 billion ($2.32 billion).
For Q4, Ubisoft also confirmed its targets of €571 million ($645 million) in sales and €698 million ($788 million) in net bookings, which would be up 29% year-over-year. Those numbers will be driven by the releases of Assassin's Creed 3 Remastered, Far Cry: New Dawn, Tom Clancy's The Division 2, Trials Rising, and DLC for games such as Assassin's Creed: Odyssey, For Honor, Steep, Tom Clancy's Ghost Recon Wildlands, and Rainbow Six Siege.
The company plans to launch between three and four AAA games in the coming fiscal year.
Overall, CEO Yves Guillemot seemed satisfied with the company's performance in Q3 and anticipated a record year for the company. "Ubisoft delivered a solid performance in a quarter when, as expected, competition was particularly fierce," he said. "Our remarkable resilience was underpinned by the high quality of our games and services, our ability to reach a much wider audience than before - on more platforms and in more geographic regions - and the benefits gained from our digital transformation. In view of our robust momentum and the upcoming releases of The Division 2 and Far Cry New Dawn, we expect to see record performances for fourth-quarter and full-year 2018-19."
Some of the triumphs of that competitive year included an increase in install bases across consoles, including a 21% increase on PS4 and Xbox One and a whopping 115% increase in the Switch install base. Assassin's Creed: Odyssey, the company's major title for Q3, was the 10th biggest seller for the year despite its release so late, while Far Cry 5 ranked at No.4.
Meanwhile, Rainbow Six Siege reached 45 million total players over time, and the majority of its revenues are coming from add-on and DLC content. Ubisoft is currently in the process of trying to release the game in China as it works to expand its reach in Asian markets.