Twitch's #GeekGirlDinner
Staff discuss diversity and supportive communities at Twitch HQ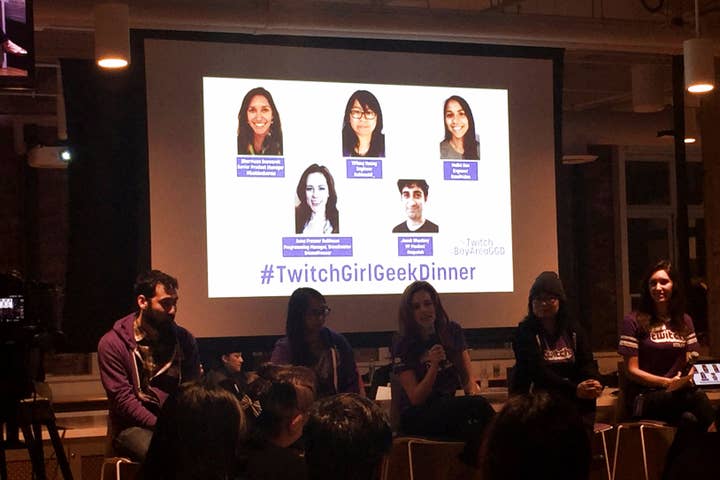 Last night Twitch played host to a Bay Area Girl Geek Dinner at its San Francisco headquarters and the panel offered their insights into facing the challenges of diversity in the workplace and within the developing streamer culture.
The panel was moderated by Sharmeen Browarek, senior product Manager with Twitch. Taking part were her colleagues Tiffany Huang and Malina Das, both engineers, Jacob Woodsey, VP of product and Anna Prosser Robinson programming manager, broadcaster and partner.
Part of the discussions focused on how those within the tech and gaming industries could help to change the culture to make it more welcoming and diverse.
"We would see women come into the eSports industry, be compelling and bright-eyed and wonderful and doing cool things and then six months later you turn around and they're gone and we couldn't figure out why," said Prosser Robinson.
"We're definitely, this year especially, really focused on diversity and learning about diversity and making sure we're doing that right"
"I very strongly believe the best thing we can do collectively right now, something that each of us can accomplish, is to provide support and exposure for existing role models in geek and gamer culture who are women. It's not our job to define what that role model looks like, it's not our job to do anything other than make sure that they're are prominent women faces out there that someone who is just coming into the industry can say 'she did it, so I can do it.'"
Prosser Robinson is also one of the founders of Misscliks which aims to support those goals.
Woodsey also suggested speaking out when people behaved in ways that were inappropriate or made people feel uncomfortable, and included Twitch in that.
"Tell us when we're doing something wrong, tell other people when they're doing something wrong and get it fixed."
He also admitted that while Twitch didn't have specific insights into its streamer numbers, and that was something Twitch wanted to change so that Twitch could address any potential imbalance there.
"I can just add that I've been in a lot of discussions outside of Twitch about what Twitch looks like and there's a lot of concern about the fact that there are less women streamers and that women streamers also seem to stream less," said Prosser Robinson.
"I can attest that what's going on at Twitch right now is that that's a huge concern. In the past there's been this kind of utopian view that we don't need to know who our broadcasters are gender-wise because everyone should be able to stream, everyone should use Twitch and that's the kind of place we want to create, but it's obvious that we need to know that now. We're definitely, this year especially, really focused on diversity and learning about diversity and making sure we're doing that right."
The panel had a very positive and forward looking feel, with the audience asking questions regarding their own personal experiences, but the Twitch team also weren't afraid to tackle tougher questions like how they would personally deal with harassment or other uncomfortable situations, how to find supportive communities and using anonymity in online communities to your advantage.