Twitch viewership hit 1.8bn hours in April
Meanwhile Facebook Gaming totaled 336 million hours watched during the month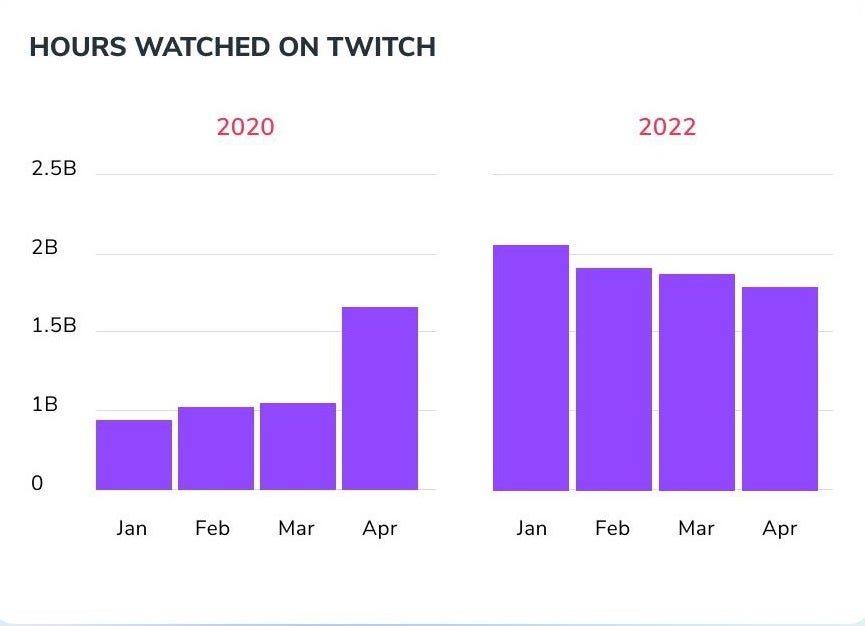 Twitch reached a viewership of 1.8 billion hours watched in April, according to StreamElements analytics partner Rainmaker.gg.
Meanwhile during the month Facebook Gaming on the other hand accumulated 336 million hours during the month.
In terms of games watched on the Twitch platform in April, Grand Theft Auto V was the most-watched title at 127 million hours.
It was followed by League of Legends at 126 million, Valorant at 108 million, and Fornite at 66 million.

This was also the third consecutive month that Elden Ring has been among the top 10 games watched on the streaming platform.
During the month FromSoftware's newest RPG amassed 36 million hours watched on Twitch.
Additionally, the live streaming tool provider noted that hours have declined as restrictions on travel and live events have lifted.
"Based on what we are seeing across livestreaming platforms, viewing habits are starting to revert to what they were pre-pandemic as the world opens up again for travel, events, and gatherings," chief business officer of StreamElements Jason Krebs.
"Even with the decline, so many creators, viewers, and brands were exposed to the appeal of the medium that even the lowest month in the future will likely be above the highest month in the past before the pandemic started."