Twitch viewership grew 45% year-over-year for 2021
Facebook Gaming amassed 5.3 billion hours watched during the year with a 47% increase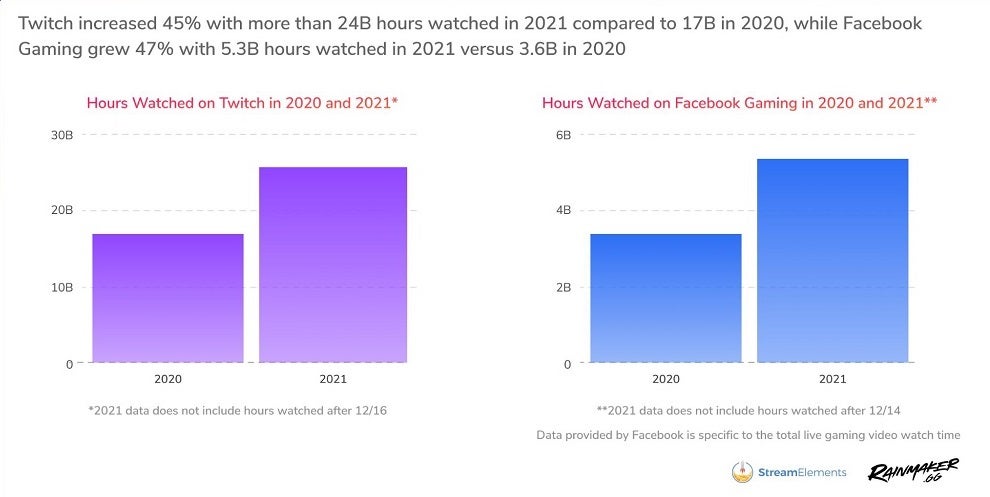 Throughout the year of 2021, viewers watched 24 billion hours of video on Twitch, according to StreamElements analytics partner Rainmaker.gg.
In their State of the Stream 2021 Year in Review report released today, the pair state that viewership hours for the platform reflects an increase of 45% from 2020.
As for Facebook Gaming, viewership grew 47% year-over-year as it reached 5.3 billion hours throughout the year.
On Twitch, three titles have gained at least 1 billion hours watched during 2021.
Grant Theft Auto V was the most watched game for the year with 2.1 billion hours in views, a growth of 175% year-over-year compared to 2020.
League of Legends was second on the streaming platform at 1.8 billion. The MOBA saw an increase of 28.5% in views this year.
The battle royale Fortnite came in third at 1 billion hours watched in 2021. Its viewership grew 10.6% from 2020.
"If there is any doubt the livestreaming industry has experienced a massive upswing, Twitch and Facebook Gaming both achieved close to a 50% increase in total hours watched in 2021 compared to 2020," said StreamElements chief business officer Jason Krebs.