Twitch, Facebook see best months for viewership yet in December
DLive, a game streaming platform used by Capitol insurrectionists, also saw December uptick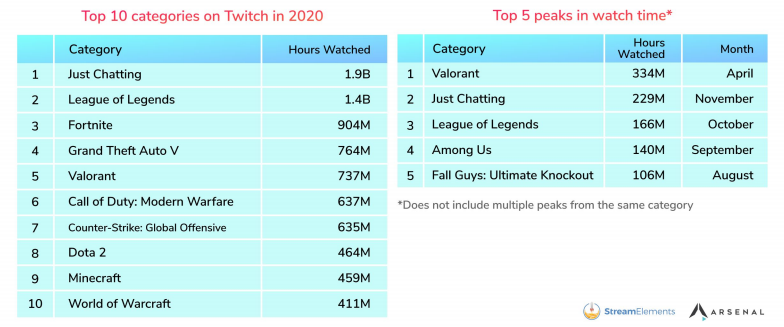 Twitch and Facebook Gaming set new monthly viewership records in December, at 1.7 billion hours and 388 million hours watched, respectively.
According to StreamElements analytics partner Arsenal.gg, Fortnite was the most-watched game for the month at 81 million hours, followed by League of Legends at 77 million, World of Warcraft at 76 million, Minecraft at 58 million, and Cyberpunk 2077 at 53 million.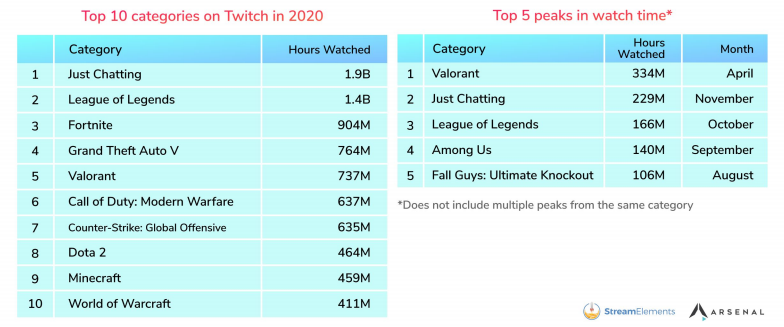 In total, Twitch reached 17 billion hours watched for the full year 2020, up 83% from nine billion hours in 2019.
Facebook Gaming, meanwhile, saw 3.59 billion hours watched in 2020, up 166% from 1.35 billion hours in 2019.
On Twitch, League of Legends was the most-watched game of the year at 1.4 billion hours, with Fortnite behind it at 904 million, followed by Grand Theft Auto V at 764 million, Valorant at 737 million, Call of Duty: Modern Warfare at 637 million.
Valorant had the highest peak watch time on Twitch for 2020, reaching 334 million hours in April.
Additionally, blockchain-based game streaming platform DLive had 59 million hours watched in 2020, with around 6 million hours watched in December.
The platform jumped from 9.7 million hours in Q1 to 17 million in Q2, reaching 15 million in Q3 and 16 million in Q4.
Last week, Wired reported that DLive was used by numerous members of a group of insurrectionists who broke into the US Capitol last Wednesday to stream the events.
Over 140,000 DLive viewers watched streams of the attack, which were broadcast by streamers including Tim 'BakedAlaska' Gionet. Members of chat reportedly cheered on the insurrectionists, including urging them to commit acts of violence against congresspeople and donating to those broadcasting from the Capitol.
"When these instances were reported we quickly removed them from our platform for violating our terms of service," said a StreamElements representative when asked for comment on its tools being used to facilitate donations on DLive during the Capitol siege.
"We pride ourselves on inclusiveness and diversity with a hard stance when it comes to hate speech and harassment."