Tomodachi Collection still on top in Japan
Minecraft Xbox 360 sells 5,000 copies in its debut week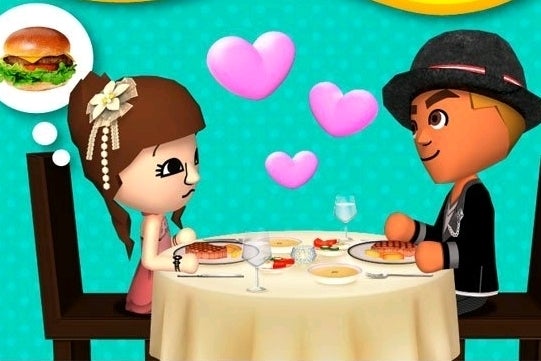 Nintendo's Tomodachi Collection: New Life continued to sell strongly in Japan last week, holding the top spot for the second week in the face of virtually no competition.
According to data from Media Create, translated by Gematsu, Tomodachi Collection: New Life sold nearly 47,000 copies in the week ended June 9, 2013. The 3DS exclusive has shown surprising resilience since its release in April, losing only 10,000 sales from its levels a month ago.
However, there was very little threat from any competitors. The only other game to enter the top 20 chart was Minecraft: Xbox 360 edition, which sold less than 5,000 units.
The hardware chart remained stagnant, with all formats losing sales and the 3DS XL still firmly on top.
The full software chart is below, with life-to-date sales in parentheses:
1. [3DS] Tomodachi Collection: New Life (Nintendo, 04/18/13) - 46,787 (1,090,875)
2. [PS3] Kamen Rider: Battride War (Namco Bandai, 05/23/13) - 18,059 (166,794)
3. [3DS] Luigi's Mansion: Dark Moon (Nintendo, 03/21/13) - 15,759 (766,712)
4. [PS3] Resident Evil: Revelations (Capcom, 05/23/13) - 15,495 (150,361)
5. [3DS] Animal Crossing: New Leaf (Nintendo, 11/08/12) - 13,953 (3,263,663)
6. [3DS] Shin Megami Tensei IV (Atlus, 05/23/13) - 13,649 (232,636)
7. [PS3] Terraria (Spike Chunsoft, 05/23/13) - 7,619 (35,941)
8. [PSV] Valhalla Knights 3 (Marvelous AQL, 05/23/13) - 5,710 (57,195)
9. [3DS] Dragon Ball Heroes: Ultimate Mission (Namco Bandai, 02/28/13) - 5,148 (203,609)
10. [Wii] Taiko Drum Master Wii Super Wonderful Edition (Namco Bandai, 11/29/12) - 4,300 (492,793)
11. [360] Minecraft: Xbox 360 Edition (Microsoft, 06/06/13) - 4,268 (New)
12. [3DS] Monster Hunter 3 Ultimate (Best Price!) (Capcom, 11/15/12) - 3,510 (316,487)
13. [3DS] New Super Mario Bros. 2 (Nintendo, 07/28/12) - 3,330 (2,039,477)
14. [PSP] Norn9 (Idea Factory, 05/30/13) - 3,121 (17,956)
15. [3DS] Mario Kart 7 (Nintendo, 12/01/11) - 3,034 (2,060,698)
16. [PSP] Summon Night 5 (Namco Bandai, 05/16/13) - 2,793 (127,927)
17. [3DS] Run For Money: Flee From the Strongest Hunters in History! (Namco Bandai, 07/05/12) - 2,669 (494,218)
18. [PS3] Dragon's Dogma: Dark Arisen (Capcom, 04/25/13) - 2,611 (190,336)
19. [3DS] Taiko Drum Master: Chibi Dragon and the Mysterious Orb (Namco Bandai, 07/12/13) - 2,259 (493,591)
20. [Wii U] New Super Mario Bros. U (Nintendo, 12/08/12) - 2,452 (519,027)
The full hardware chart is below, with the previous week's sales in parentheses:
1. 3DS LL - 27,172 (28,807)
2. 3DS - 12,700 (14,057)
3. PlayStation 3 - 10,394 (11,832)
4. PlayStation Vita - 9,733 (11,783)
5. Wii U - 6,330 (6,680)
6. PSP - 5,076 (5,807)
7. Wii - 1,060 (1,171)
8. Xbox 360 - 432 (441)