Tomodachi Collection hits 1 million sales in Japan
3DS exclusive returns to number one in a slow week for software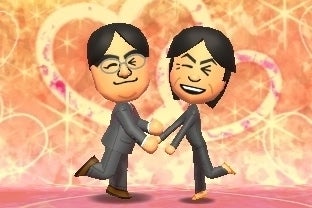 Nintendo's Tomodachi Collection: New Life reclaimed the top spot in the Japanese software chart in a week bereft of compelling new releases.
According to data released by Media Create, translated by Gematsu, the 3DS title sold almost 60,000 units last week, breaching the milestone of 1 million lifetime sales. Resident Evil: Revelations and Shin Megami Tensei both sold more than 30,000 units in their second week at market.
The highest new entries were Idea Factory's Norn9 in seventh and Cave's Dodonpachi SaiDai on Jou in ninth. Neither game sold more than 15,000 copies.
The hardware chart was similarly placid, with the most obvious movement being a downward trend for the 3DS XL after its brief boost around the release of Shin Megami Tensei IV last week.
The full software chart is below, with life-to-date sales in parentheses:
1. [3DS] Tomodachi Collection: New Life (Nintendo, 04/18/13) - 59,104 (1,044,088)
2. [PS3] Resident Evil: Revelations (Capcom, 05/23/13) - 32,193 (134,866)
3. [3DS] Shin Megami Tensei IV (Atlus, 05/23/13) - 30,424 (218,987)
4. [PS3] Kamen Rider: Battride War (Namco Bandai, 05/23/13) - 20,076 (148,735)
5. [3DS] Luigi's Mansion: Dark Moon (Nintendo, 03/21/13) - 19,649 (750,953)
6. [3DS] Animal Crossing: New Leaf (Nintendo, 11/08/12) - 16,870 (3,249,710)
7. [PSP] Norn9 (Idea Factory, 05/30/13) - 14,836 (New)
8. [PSV] Valhalla Knights 3 (Marvelous AQL, 05/23/13) - 11,128 (51,485)
9. [360] Dodonpachi SaiDai ou Jou (Cave, 05/30/13) - 9,344 (New)
10. [PS3] Terraria (Spike Chunsoft, 05/23/13) - 8,460 (28,322)
11. [PSV] Haiyore! Nyaruko-san Meijou Shigatai Game no You na Mono (5pb., 05/30/13) - 6,836 (New)
12. [PSP] Summon Night 5 (Namco Bandai, 05/16/13) - 5,999 (125,134)
13. [Wii] Taiko Drum Master Wii Super Wonderful Edition (Namco Bandai, 11/29/12) - 5,563 (488,493)
14. [3DS] Dragon Ball Heroes: Ultimate Mission (Namco Bandai, 02/28/13) - 5,301 (198,461)
15. [3DS] New Super Mario Bros. 2 (Nintendo, 07/28/12) - 3,966 (2,036,147)
16. [PS3] Dragon's Dogma: Dark Arisen (Capcom, 04/25/13) - 3,636 (187,724)
17. [3DS] Mario Kart 7 (Nintendo, 12/01/11) - 3,418 (2,057,664)
18. [PS3] Zillions of Enemy X: Zetsukai no Crusade (NIS, 05/23/13) - 2,954 (7,973)
19. [3DS] Run For Money: Flee From the Strongest Hunters in History! (Namco Bandai, 07/05/12) - 2,920 (491,549)
20. [3DS] Monster Hunter 3 Ultimate (Best Price!) (Capcom, 11/15/12) - 2,893 (312,977)
The full hardware chart is below, with the prior week's sales in parentheses:
1. 3DS LL - 28,807 (40,651)
2. 3DS - 14,057 (14,059)
3. PlayStation 3 - 11,832 (13,318)
4. PlayStation Vita - 11,783 (12,171)
5. Wii U - 6,680 (5,648)
6. PSP - 5,807 (5,749)
7. Wii - 1,171 (1,192)
8. Xbox 360 - 441 (382)