THQ was foolish to chase Call of Duty with Homefront says Pitchford
The Gearbox boss also thinks putting Crytek on a sequel is a bad choice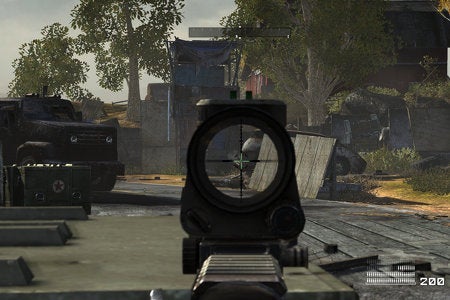 THQ invested a lot in Homefront, and it ultimately didn't pan out, eventually leading to the demise of developer Kaos Studios. In Randy Pitchford's opinion, THQ's to blame for attempting to take on a giant like Call of Duty.
"I tend to be careful about talking about other people's business," he told Gamasutra, before proceeding to do just that. He continued, discussing why Homefront failed. "Right off the bat, I'm suspicious of that approach, right out of the gate. That might not be the best strategy," he said of the strategy to target Call of Duty. "The [game's] what-if scenario is kind of interesting," but "it doesn't take a lot of risks from a gameplay point of view."
Taking on Call of Duty is a very tall order, and THQ is certainly not in the financial position to do so. "You really have to go for it. You really have to spend a lot. You have to not only out brute-force the market leader, but out-clever them. The game has to be better, the marketing and production better have to be... Everything has to be bigger and better," Pitchford continued.
The Gearbox CEO also seemed surprised that THQ would pursue a sequel and would ask Crytek to develop it. "Somehow that decision was made that 'We are going to build this game and hope it becomes an IP'," he said. "That suggests that the people at THQ that were making the decision, at the time, that Homefront was worth betting on again, but not with the same developer, which is interesting."
"I wouldn't have put them [Crytek] on that," Pitchford added, noting Crytek's ability to create high quality original IP.