THQ reports losses in line with guidance
Publisher looks ahead to "robust" line-up from now on; expecting slight losses for full year
Publisher THQ has revealed results for its fiscal 2011 second quarter - the three months to the end of September 30 - headlining with a $47 million loss, a significant increase over the same period last year when it was $5.6 million.
However, that performance was in-line with the company's guidance and partly the result of rescheduling releases to ensure overall quality - while the company claims that two years of investment in a strong product pipeline begins this Holiday season.
The results will be seen as a continuation of the holding pattern the company has been in since the restructuring phase ended last year, with CEO Brian Farrell outlining the extent of investment in the future, noting that the publisher expects to see that pay off from fiscal 2012 onwards.
"This Holiday begins the consistent flow of quality products that we've been investing in over the past two years," he commented in a statement, outlining key titles such as Homefront, WWE All Stars, de Blob 2, UFC Personal Trainer and the launch of the uDraw peripheral for the Wii.
"We continue to invest in our long-term product pipeline, with the recent eight-year extension of our UFC relationship, and the planned addition of Patrice Désilets to our growing team of talented artists creating new intellectual properties for THQ."
The company also recently announced that it planned to create a 400-person studio in Montreal, making use of a sympathetic tax environment, which would house two game design teams - one led by Assassin's Creed creator Désilets.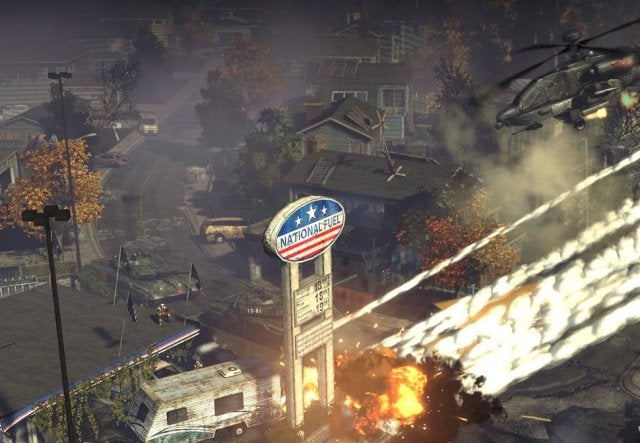 In addition the company plans to release new titles in the Red Faction and Saints Row franchises in the next fiscal year, while an extension of its Games Workshop license agreement will see the Warhammer 40,000: Space Marine title also on the schedule.
The publisher's most lucrative platform in the three month period was the Nintendo DS, accounting for $17.2 million (22.4 per cent) of overall game revenues, followed by the Xbox 360 with $14.3 million (18.5 per cent), the Nintendo Wii with $13.0 million (16.9 per cent) and the PlayStation 3 bringing in $12.3 million (15.9 per cent).
The PC, PlayStation Portable, PlayStation 2 and Wireless completed the list, while the company noted that 58.7 per cent of sales came from the US.
In terms of outlook for the full year (ending March 31, 2011) THQ expects non-GAAP net sales in the range of $825-$855 million and a non-GAAP loss per share in the range of 10-20 cents.