THQ Nordic holds AMA on imageboard known for child porn
"We got approached in a very friendy and polite manner," explains Darksiders publisher as it continues fielding questions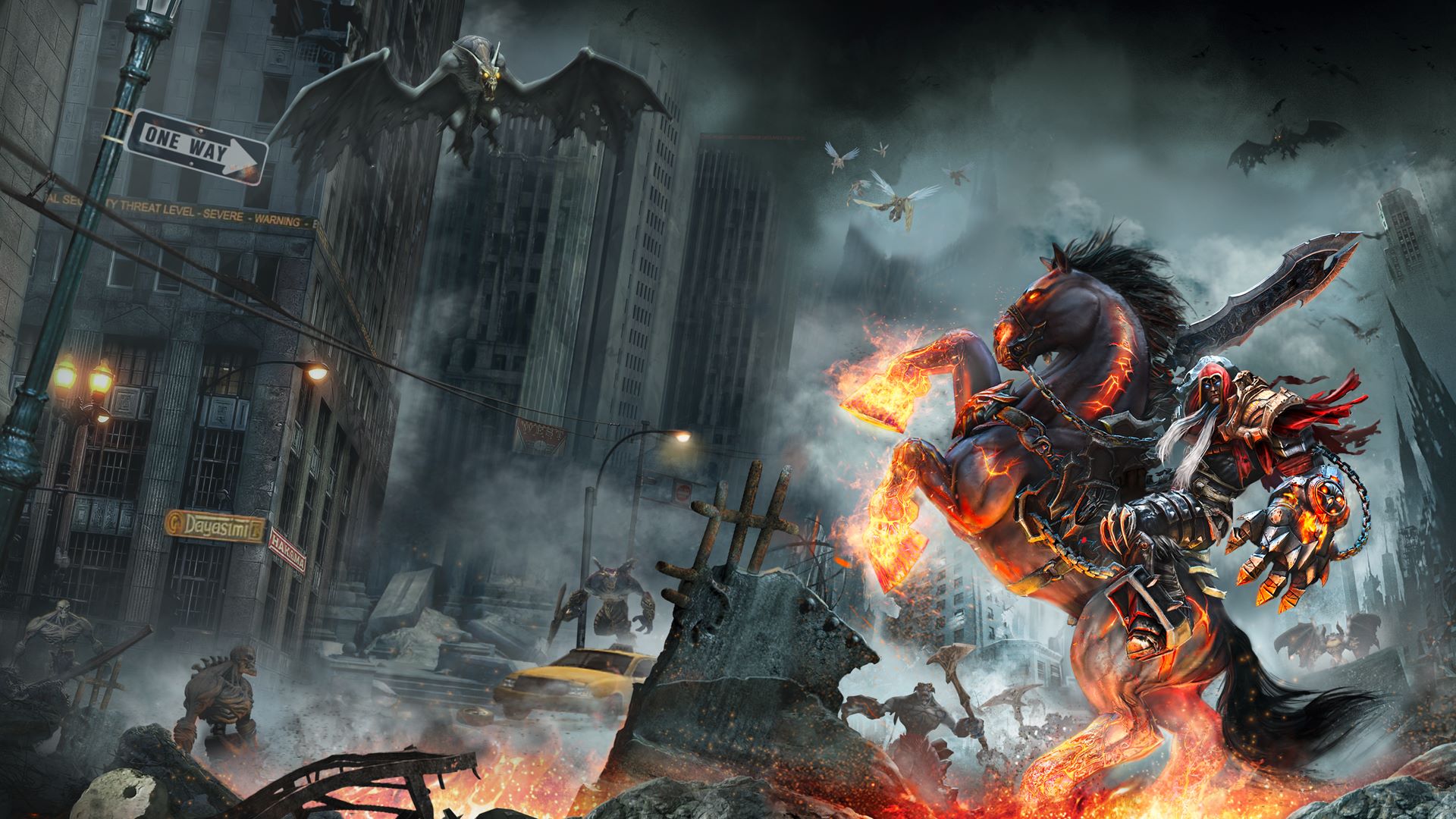 Today, Darksiders publisher THQ Nordic opted to host an "Ask Me Anything" (AMA) session to offer its audience an opportunity to have questions about its business and games answered. This would be utterly unremarkable had it not opted to host said AMA on 8chan, an imageboard known for NSFW content of all kinds, including hate speech, child pornography, harassment, and abuse.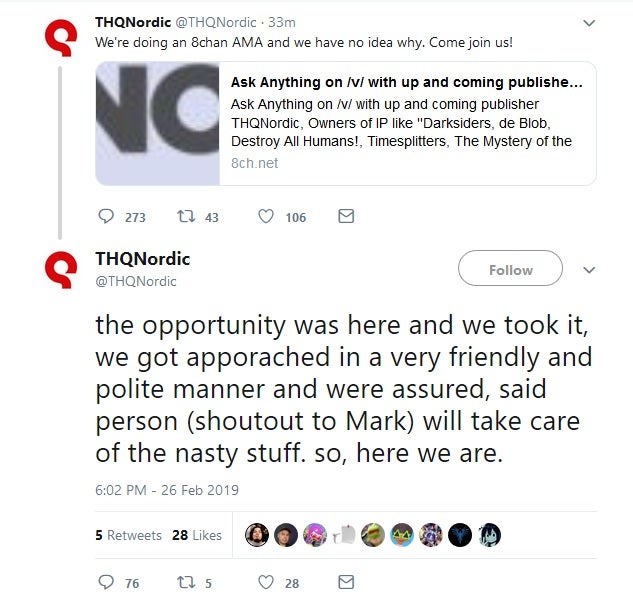 In the tweets shown above, THQ Nordic announced the AMA and then, about 30 minutes later, offered a follow-up tweet after receiving a wave of criticism for the AMA on social media.
"the opportunity was here and we took it," it reads. "we got apporached in a very friendly and polite manner and were assured, said person (shoutout to Mark) will take care of the nasty stuff. so, here we are."
45 minutes into the AMA itself, and in addition to various questions and requests for a new Destroy All Humans, the discussion is full of suggestive and outright pornographic images, references to Hitler, Nazis, and GamerGate, slurs, and other similar content.
One user replied to the AMA with, "Please don't censor any games nor appeal to the SocJus crowd, you guys are doing fine as is."
In response, "THQN_Philipp" (PR and marketing director Philipp Brock) responded, "thanks! we'll try to stay that way."
Brock later told GamesIndustry.biz that his reply was "in relation to us not censoring our games."
8chan was founded in 2013 by Fredrick Brennan, a programmer who started the site in an effort to restore what he saw as the loss of free speech across the Internet. The board has no rules beyond prohibiting posts including content illegal in the United States; a quick glance at the 8chan Wikipedia page's Table of Contents offers a reasonably accurate overview of the kind of content has resulted. In addition to the aforementioned pornographic content and hate speech, 8chan has served as a hub for various harassment campaigns, including GamerGate after 4chan banned discussion of the topic.
In 2015 Ars Technica reported that the prevalence of child pornography and posts containing child abuse caused the site to be temporarily delisted from Google search results.
Brock offered the following statement to GamesIndustry.biz when questioned about the decision to hold the AMA.
"I personally agreed to this AMA without doing my proper due diligence to understand the history and the controversy of the site. I do not condone child pornography, white supremacy, or racism in any shape or form. I am terribly sorry for the short-sightedness of my (!) decision, and promise to be far more vigorous in my assessment of these activities in the future. This was not about being edgy, this blew up and I very much regret to have done it in the first place."
Update:
When pressed further on if there was a reason why he kept the AMA going after the criticisms began pouring in, Brock replied, "Yes. I was fucking overwhelmed with a plethora of different emotions to be honest."
"I am not a white supremacist, nor into child pornography, nor do I think this AMA was smart in hindsight and if I could, I would undo," he concluded.
Update 2:
When asked for comment, THQ CEO Lars Wingefors said the PR and marketing manager at THQ Nordic GmbH had already commented on it through Twitter.