The E3 reveal that surprised Farming Simulator fans
Developer GIANTS Software on signing the John Deere licence and its relationship with the agricultural industry
It was an announcement that sent shockwaves amongst fans at E3.
"Oh my god, Oh my god," was the live reaction of multiple well-known streamers. Twitter lit up with excitement. One YouTuber screamed: "I never thought this would happen."
The reason? John Deere was finally coming to Farming Simulator.
To the majority of you, that would mean absolutely nothing. But to the devoted community of Farming Simulator enthusiasts, it's what they've been crying out for... even if many never believed that the popular farming brand (which once had its own farming game) would ever agree to join the title.
"Nobody expected it to happen," says Thomas Frey, creative director and VP at Farming Simulator creators GIANTS Software. "The players thought that John Deere wouldn't get involved because it has its own game, or they're not considering it because they have competitors in the game. So it was a surprise when we made this announcement. John Deere is the biggest agricultural brand in the world, so it had a huge impact."
He continues: "When I first contacted John Deere and asked them if they would like to join our game, it was like 2010 or 2011. We tried again and again and met them several times over the years. We just needed to be patient, because - to a certain degree - as the game became bigger and bigger, and the quality rose also, it was becoming more appealing. And the pressure on John Deere rose over time because after every Farming Simulator, I'm pretty sure they received a lot of messages from players asking them why the hell they weren't in the game?
"Somebody suggested that maybe when [other popular agricultural brand] Fendt is in the game again, perhaps that'll persuade John Deere to do it as well. And it was a bit like that. Fendt was a brand we brought back in the 2017 version, and one year later we signed John Deere. So perhaps they noticed that all the big brands are in it, so maybe they should be as well."
It's easy to forget how important real brands are to the success of sim games, whether that's a sports title like FIFA or a hardcore simulation. And it's something that Farming Simulator has always tried to secure, even if it took time to convince the agricultural industry to climb on-board.
"The first Farming Simulator just had one brand," recalls Frey. "Even the second version only had two, with a third brand added as DLC. A first milestone was 2010 when we had almost 10 brands in the game. We also made a big decision, we changed our strategy to only cooperate with brands that were really committed to us, because they see the cooperation as a win-win like we did. We would give the brands the opportunity to showcase their products in our game, and in return we would receive their licence.
"Often the manufacturers would compare us with scale model or toy producers"
"But to begin with, it was very challenging to convince the agricultural manufacturers to become a licensor, because they often didn't have any clue about video games. We always had to explain what Farming Simulator was all about. They couldn't imagine or understand what we were doing. And often the manufacturers would compare us with scale model or toy producers. You cannot really do that because you are looking at a completely different level of detail. If you think about a scale model, or a simple toy, it is lacking a lot of details. But in our game, you can get into the cabin, you can see the controls, see each buttons... some of the vehicles are animated with bits that fold and move."
He continues: "But over the years, the game got bigger and bigger - especially in Germany - so that helped a lot. When we approached brands it started to be a case of them already knowing the game, perhaps their kids were playing it, and with the game available, we were able to show nice videos."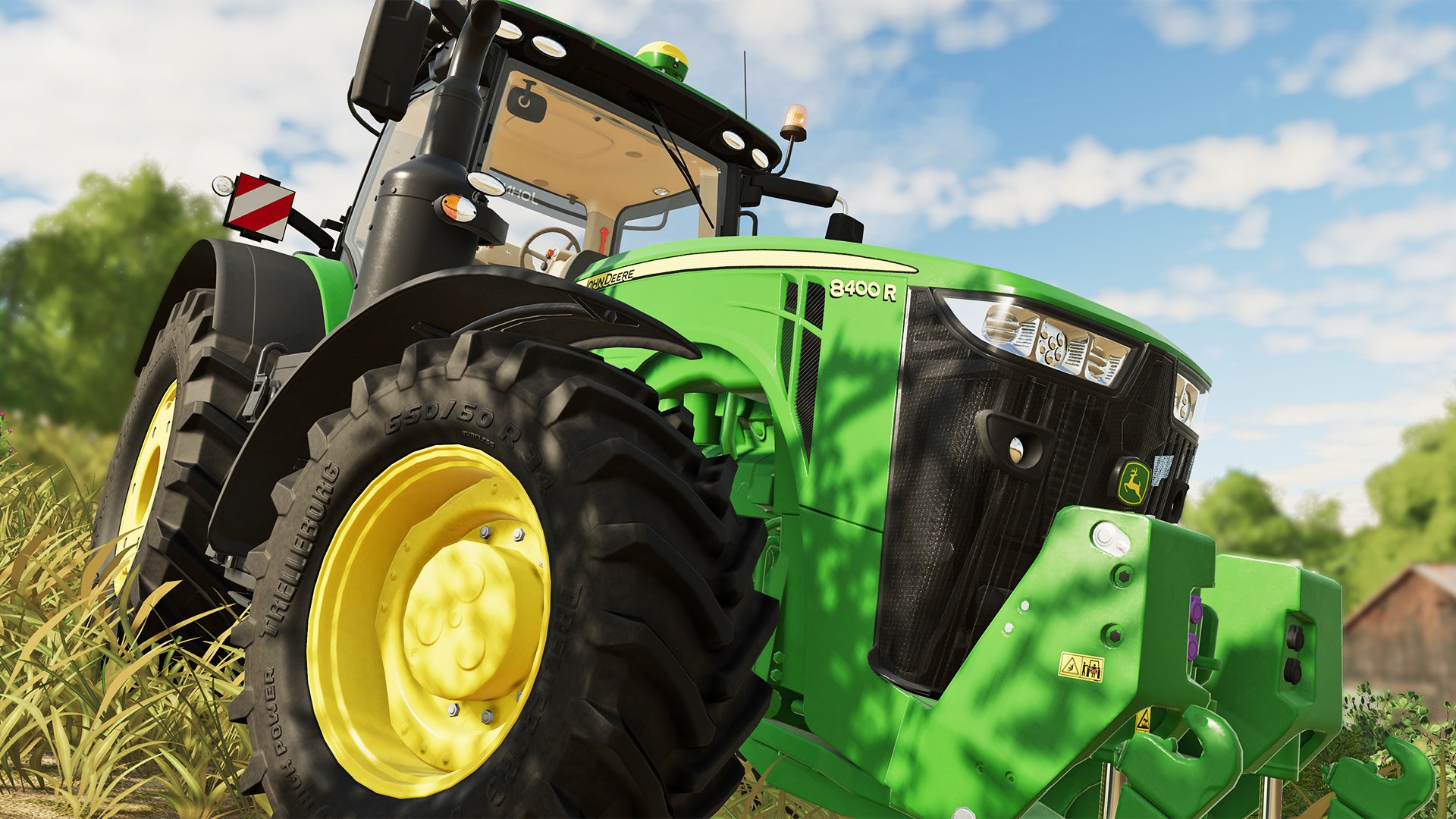 Official licences are important, not just for the fans, but also for pushing into other markets. In 2012, Farming Simulator partnered with American agricultural giant Case IH, which Frey credits as one of the reasons it was able to grow in the US.
They're also important so that the development team can create an accurate replication of the machines. Almost all of Farming Simulator's partners provide supporting materials like CAD data, manuals and some even give the team access to the vehicles to record sounds and test the equipment. It's a far cry from the game's early days.
"To begin with, we mainly worked with just images, which we took ourselves maybe, or just found them online or in brochures," Frey adds. "But if you just have images, it is almost impossible to get all the proportions right. It's much more of a challenge."
Of course, having so many competing brands in one game is not without its challenges, with manufacturers concerned by how their products are presented next to their rivals.
"In 2011, we showed one big company our game and a list of brands that we already had," Frey tells us. "And the marketing guys said 'ok, we can join. But if we are going to join, then these brands have to leave.' We were being asked to kick them out. But we said no, it wasn't what we wanted. They could join our game whenever they wanted, but we would not get rid of brands that we already had. That was something we had to deal with.
"We showed one big company our game and a list of brands that we already had. And the marketing guys said that they would join if these other brands leave."
"Then, of course, there is always some challenges because you have competing brands and you have to make sure everyone is happy. And that you don't treat one better than another. But over the years, the companies always understood our vision about how the game should be. I would compare it to Gran Turismo, where we have all the brands next to each other. Or a big trade show, where they present all the machines next to each other."
Generally, Farming Simulator tries not to have too many similar pieces of equipment and machines from different companies, to avoid comparisons. They also like to encourage players to upgrade between different brands, so that they try a bit of everything.
"Ideally every player will play with each machine, because the progress they're making will see them upgrade to the next one and the next one," says Frey. "That also benefits the manufacturer, because the player would consider a brand that perhaps they don't want to buy, but they need to because of how the game is balanced."
Over the decade that Farming Simulator has existed, the brand and its developer has found itself almost as much part of the agricultural industry as it has the games industry. The game has played its part in introducing a younger generation to well known manufacturers in the industry.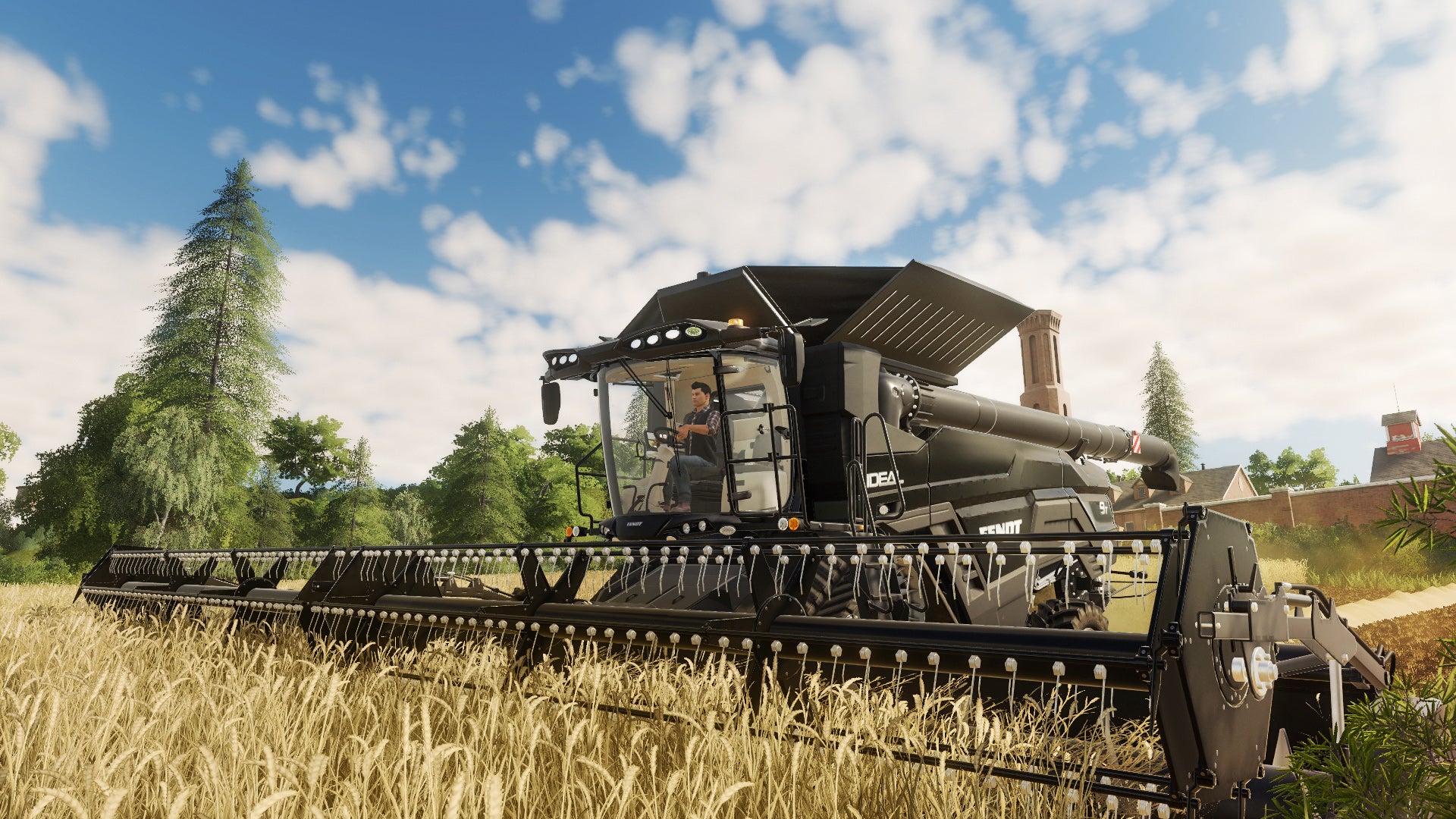 "Farming Simulator was a perfect fit for New Holland - which has a passionate, knowledgeable fan base," says Andrew Dunne, global brand marketing projects manager at New Holland Agriculture. The firm is an agricultural machinery manufacturer that is part of Farming Simulator since 2014.
"Furthermore, the game's wide range of applications lends itself to New Holland as a full line brand - no matter how the gamer chooses to farm they will find the product to fit their requirements.
"We could also see that this was something which was going to grow, and we could see that younger gamers had a growing interest in this type of gaming, so we wanted to be part of this. Farming Simulator is the modern equivalent of the 'carpet farming' with scale models."
The result of these partnerships has seen the developer work more closely with the farming industry on various serious games projects, for training, educational, marketing and even practical purposes.
"For big brands like John Deere we have created a simulator installation where you can sit in a real cab and control it, with a display in front of you," Frey begins. "The goals of these simulators are not always the same. Some are designed to show new features of the machine, so you can make possible customers understand why they should buy it.
"Having the agricultural brands part covered, we are looking at expanding the game into other directions. So things like trucks, even car brands, maybe trains and planes at some point"
"We also create training simulators. For example we did this HoloLens project for AGCO's latest IDEAL combine harvester, so that people with no clue how to control a combine harvester could sit in the cab, and the HoloLens would tell the person how to control the machine - what they have to press and when. Projects like this helps us expand the co-operation with these brands. It's not just about games anymore, it's about more serious things.
"There's another recent project I can't talk much about, but we are working with someone to create a new feature for real agricultural machines. So today, what we're doing is going much further than just video games."
Fendt back on-board and the big John Deere deal signed and delivered, are there any other names that Frey and his team are trying to attract?
"Sometimes there are other brands that might want to join the games, which have been rejected so far," he concludes. "Things like pesticide and herbicide producers, because those are a bit more problematic, especially when you think about Monsanto.
"But in terms of the agricultural brands, I would say we are almost done. There are some left. Having the brands covered is one thing but there are still plenty of additional agricultural aspects for example further crop types we can add.
"Having the agricultural brands part covered, we are looking at expanding the game into other directions. So things like trucks, even car brands, maybe trains and planes at some point. If you think about things like crop dusting... I would say that is the next step. Just expanding the whole thing.
"We had this vision many years ago about it becoming an ultimate simulator. So it's one simulation, but it is covering a lot more aspects. It's not just about production of agricultural goods anymore, but also transportation, trucking, and even ships, maybe, at one point. You could have this whole ecosystem wrapping around the farming coreThat's the long-term vision."