Temple Run has been downloaded 100m times
Imangi Studios celebrates the title's 1-year anniversary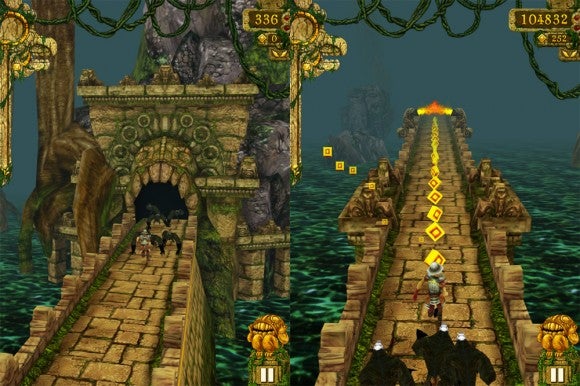 Temple Run was released one year ago today, and developer Imangi Studios couldn't be happier since the title recently hit the 100 million downloads mark. 68 million downloads have been on iOS with the other 32 million coming from Android devices.
Imangi also noted that over 10 billion sessions of Temple Run have been played since August 2011, "equaling a combined time of 54,000 years spent playing the game," and judging by the number of downloads in the US, around 13 percent of the US population has downloaded Temple Run.
"We never imagined that the game we were making and loved would be so well received around the world," said Keith Shepherd, co-founder of Imangi Studios. "The last year has been incredible for us, and we are grateful to fans of the game. We hope to be able to provide them with more entertainment from the brand for years to come."
Extending the brand has been a focus for the company. Imangi, with the help of licensing agency Dimensional Branding Group (DBG), announced several licensing partnerships in 2012 for Temple Run, including apparel with JEM Sportswear, digital comics with Ape Entertainment, card and board games with Spin Master, arcade machines with Coastal Amusements and sleepwear with Komar.
Furthermore, just this past June, Imangi teamed with Disney Pixar to launch Temple Run: Brave, leveraging the computer animated movie. It quickly made it to the #1 slot in the App Store, and has been a top 10 App since its release.
Celebrating the incredibly successful first year for Temple Run, Imangi is making all of its mobile titles released prior to Temple Run available for free "for a limited time."