Tech CEOs call for reform on "outdated" immigration laws
Google, Zynga, Facebook and Microsoft speak up about tech skills shortage in the US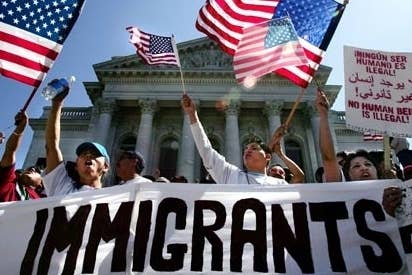 The chief executives of more than 100 American tech companies have signed a letter calling for immigration reform to address skills shortages.
The letter, which was sent to the president and key lawmakers, was signed by Google's Eric Schmidt, Facebook's Mark Zuckerberg, Zynga's Mark Pincus and Microsoft's Bradford L. Smith among many, many others.
It described the, "need for more qualified, highly-skilled professionals, domestic and foreign, who can create jobs and immediately contribute to and improve our economy," as one of the major economic challenges facing the nation. Google, eBay, PayPal and Yahoo! are all cited as examples of of companies started by immigrants that have inspired job creation and economic growth.
"Yet because our current immigration system is outdated and inefficient, many highly-skilled immigrants who want to stay in America are forced to leave because they are unable to obtain permanent visas. Some do not bother to come in the first place. This is often due to visa shortages, long waits for green cards and lack of mobility."
The letter calls for immigration reforms that will match visa availability to the demands of the American job market, and make spouses and children exempt from the overall visa cap. There are currently 10,000 skilled job openings between just five of the companies that signed the letter: IBM, Intel, Microsoft, Oracle and Qualcomm.
Thanks, The Hill.