Talking Shop: The Witcher 3's Lead Character Artist
We chat with Pawel Mielniczuk about bringing the characters of The Witcher to life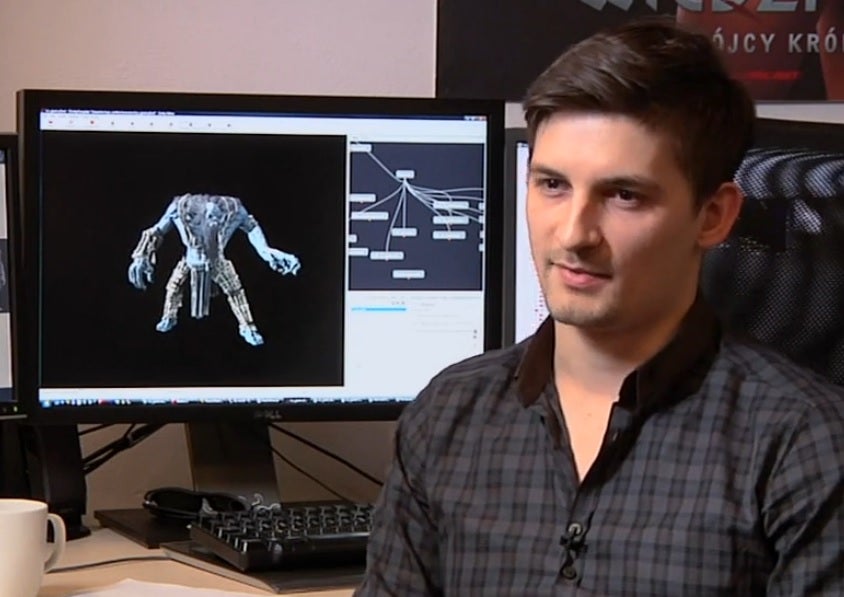 In our latest Talking Shop, GamesIndustry International sits down with another member of the industry to talk about what they do. Today, we're talking with CD Projekt Red lead character artist Pawel Mielniczuk. Over his seven-year career, Mielniczuk has had a hand in every single title in the Witcher series. He got his start at CD Projekt Red as a CG specialist for The Witcher, was promoted to senior character artist for The Witcher 2: Assassins of Kings, and he currently serves as the lead character artist for the upcoming The Witcher 3: Wild Hunt.
As a lead on the Witcher 3 team, Pawel's work is split between the creative and production sides of the studio. He determines the game's visual style, and makes sure his team has the right tools to get there.
"My role has been to manage the team of character artists that create characters and monsters for The Witcher games. As one of the leads, I'm also responsible for the visual style of the game, which means attending lots of meetings and endless brainstorming sessions where we define the direction in which the whole art department should go - both conceptually and visually," explained Mielniczuk.
"My key role is making sure that the workflow in our department is smooth and doesn't encounter any problems. To manage that, my producer and I set up production pipelines and constantly work on the list of assets that needs to be delivered. With such a visually-demanding and open-world game, this list is changed almost every day. I also take care of prototyping new solutions for project facilitation, like the backend for the new mimic system, the component character production pipeline, or new shaders for characters."
Mielniczuk's long list of duties means he no longer has the chance to create CG models himself, leaving it to his team. On the side, he also supervises animations on projects by Platige Image, the team behind The Witcher 2's CG intro, the Cyberpunk 2077 trailer, and The Witcher 3: Wild Hunt trailer.
"I coordinate work between our department and the concept artists, animators, and people responsible for gameplay mechanics, especially combat design. In a nutshell, all of the above means that I have very little time for regular work on actual models. That's why I'm leaving this to the talented artists that are working in our studio," he added.
The original character designs for The Witcher games originate in CD Projekt Red's concept art department, and Mielniczuk makes sure their work can be translated into a 3D world. He believes that the divide between 2D character designs and 3D sculpts isn't that wide.
"That's what I always thought to myself until we began working on The Witcher 2," said Mielniczuk when asked about the vast differences between the two art styles. "I was amazed when I saw lead concept artist Bartek Gaweł - who never had anything to do with 3D modeling - master Zbrush within just a week! And then he started to create amazing and very realistic head models for our in-game characters. I was totally blown away! That made me realize that, in fact, 2D drawing and 3D sculpting may be pretty similar, if you have a knack for it. Maybe with this one difference: a good 2D artist will have no problems with 3D sculpting, while it isn't necessarily the same the other way around."
Mielniczuk said that "an interesting silhouette and face" is key to a great character design, but as we transition into the next generation of consoles, technology becomes even more important in defining your characters.
"Contemporary PCs and consoles are quite powerful and the next-gen look is more about lighting models and shaders than the size of your textures and number of polygons. It is extremely important to think about materials and their properties while designing the character. Smart mixing and thinking about [a character's] final location beforehand can add a lot to the design," he said.
"The next-gen look is more about lighting models and shaders than the size of your textures and number of polygons"
The art teams at CD Projekt Red have a great deal of leeway in creating the characters and creatures that inhabit the world of The Witcher, because original author Andrzej Sapkowski was light on the description side of things. Mielniczuk said his team doesn't feel constrained by working on the existing property at all.
"Andrzej Sapkowski is an amazing storyteller and a great dialog writer, but at the same time, he's not focusing so much on the world description in his books. And that applies to monsters that Geralt meets on his journey, too. Quite often, the only information that the books provide are the type of monster, its name, and - for example - the color of its hair. The rest is on us, which is great as it leaves us a lot of creative freedom," Mielniczuk explained.
"The world created by Sapkowski is huge, complex, and full of places we can freely interpret; it's almost impossible to be bored or tired with it. From time to time, when I do need a break to clear my head so I can come up with new ideas, I usually close the doors to my room and design robots."
Mielniczuk is particularly proud of the team's work on The Witcher 2's Triss Merigold.
"The two creators of that particular model were senior character artist Marcin Blaszczak and lead concept artist Bartlomiej Gawel. I remember working on this particular model because the expectations for it were just insane and it took a tremendous amount of work to do it right. Finally, it all came together and we were able to create one of my favorite female characters, not only in The Witcher 2, but in games in general," he said. "When it comes to The Witcher 3, we're still verifying the list of characters we're working on, so the one that I like most at this point might not make it to the final game. Ask me again once The Witcher 3 is out."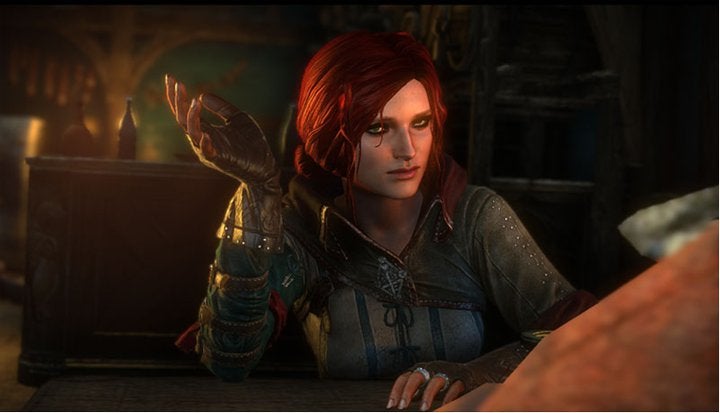 The Witcher has a passionate fanbase, and that's actually led to some difficulty for Mielniczuk's team. CD Projekt Red redesigned main character Geralt for the second game and the fans didn't take the change quietly. The team knuckled down and changed the design back to something players preferred.
"It turned out that the most controversial character design we've created for The Witcher 2 was... Geralt himself. When we started working on The Witcher 2, we decided to completely redesign Geralt's face and his haircut. Man, our fans went mad!" Mielniczuk joked. "But, since we always listen carefully to community feedback, we decided to find a solution. Instead of ignoring the rage on the forums, we spent additional days trying to make Geralt's face look similar to the way it looked in the first game while retaining the visual quality of the sequel."
"On top of that, we promised our fans that they would have a chance to change Geralt's haircut in the game. And we kept our promise!" said Mielniczuk. CD Projekt Red added the ability to change Geralt's haircut in patch for The Witcher 2.
CD Projekt Red works with its own internal engines, the latest being REDengine 3, the technology behind The Witcher 3 and Cyberpunk 2077. Mielniczuk noted that working with proprietary technology has "tremendous advantages."
"Working on your own technology and using somebody else's is like wearing your older brother's suit instead of having a tailored one. All the asset management and tools are designed exactly as we need them and we're not forced to waste time on any adjustments. If there's something new we need, we just go to our programmers and they do all the magic for us," he said.
"Working on your own technology and using somebody else's is like wearing your older brother's suit instead of having a tailored one"
Mielniczuk rose to his current position without any formal training, learning a great deal of his craft while working at CD Projekt Red. He said that students and neophytes should take drawing as seriously as 3D sculpting.
"I'm self-taught. In fact everyone on my team is. In Poland, there are still not many schools that could teach you how to create 3D characters of the quality we expect. I got most of my knowledge from internet forums on 3D graphics and, of course, CD Projekt RED," he explained.
"Draw a lot and study anatomy; those are the key elements if you want to be successful in character design. In this case, drawing abilities are very useful. Drawing is the easiest way to communicate ideas and review art."
"Secondly, do not let your characters get bogged down in an insane amount of detail. Usually simple is better," he added. "And don't forget about shaders and textures! These days, many young character designers focus on Zbrush and sculpting alone and forget that this is only half of the whole character design process."
Those looking to get into the industry can take a look at GamesIndustry International's Jobs Board.