Switch hits 30m lifetime unit sales during July | Japan Monthly Charts
Pikmin 4 debuts as the best-selling game, while Nintendo boxed sales comprised 55% of the market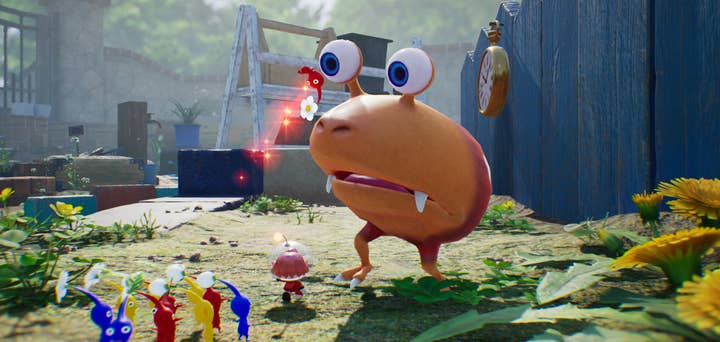 Sign up for the GI Daily here to get the biggest news straight to your inbox
During July in Japan, the Nintendo Switch reached a lifetime sales total of 30 million consoles.
Famitsu's monthly retail sales data from June 26 to July 30 shows that the console sold 407,000 units across its standard, Lite, and OLED systems.
By comparison, Sony's PlayStation 5 console hit 243,000 systems sold during the month. Sony's hardware has moved a total of 4 million units in the country.
Nintendo led with 947,000 boxed titles in Japan software sales, outpacing Square Enix's 109,000 and Spike Chunsoft's 101,000 copies. Nintendo's newly released Pikmin 4 was the biggest-selling title of the month at 518,000 moved units. It has sold nearly 80% of Pikmin 3's lifetime sales within ten days after launch.
The Legend of Zelda: Tears of the Kingdom moved 92,600 copies sold in the month. Meanwhile, Spike Chunsoft's newest title, Master Detective Archives: Rain Code, sold 74,400 boxed copies as the third-best seller.
Regarding physical game units sold during the period, Nintendo had the lion's share at 55%. Square Enix was second as it commanded 6.4% of copies purchased, while Spike Chunsoft was third, with the sales of its boxed titles making up 6% of the market.
Here are Japan's Top 10 best-selling physical games from June 26 to July 30, 2023, courtesy of Famitsu:
| Rank | Title | Publisher |
| --- | --- | --- |
| 1 | Pikmin 4 | Nintendo |
| 2 | The Legend of Zelda: Tears of the Kingdom | Nintendo |
| 3 | Master Detective Archives: Rain Code | Spike Chunsoft |
| 4 | Final Fantasy 16 | Square Enix |
| 5 | Mario Kart 8 Deluxe | Nintendo |
| 6 | Minecraft: Switch Edition | Microsoft |
| 7 | Nintendo Switch Sports | Nintendo |
| 8 | Splatoon 3 | Nintendo |
| 9 | Super Smash Bros. Ultimate | Nintendo |
| 10 | Ring Fit Adventure | Nintendo |
Sign up for the GI Daily here to get the biggest news straight to your inbox