Survey finds parents getting stricter on kids' in-game spending
ISFE finds European parents more likely than last year to have an agreement with children regulating purchases or to forbid children from in-game spending entirely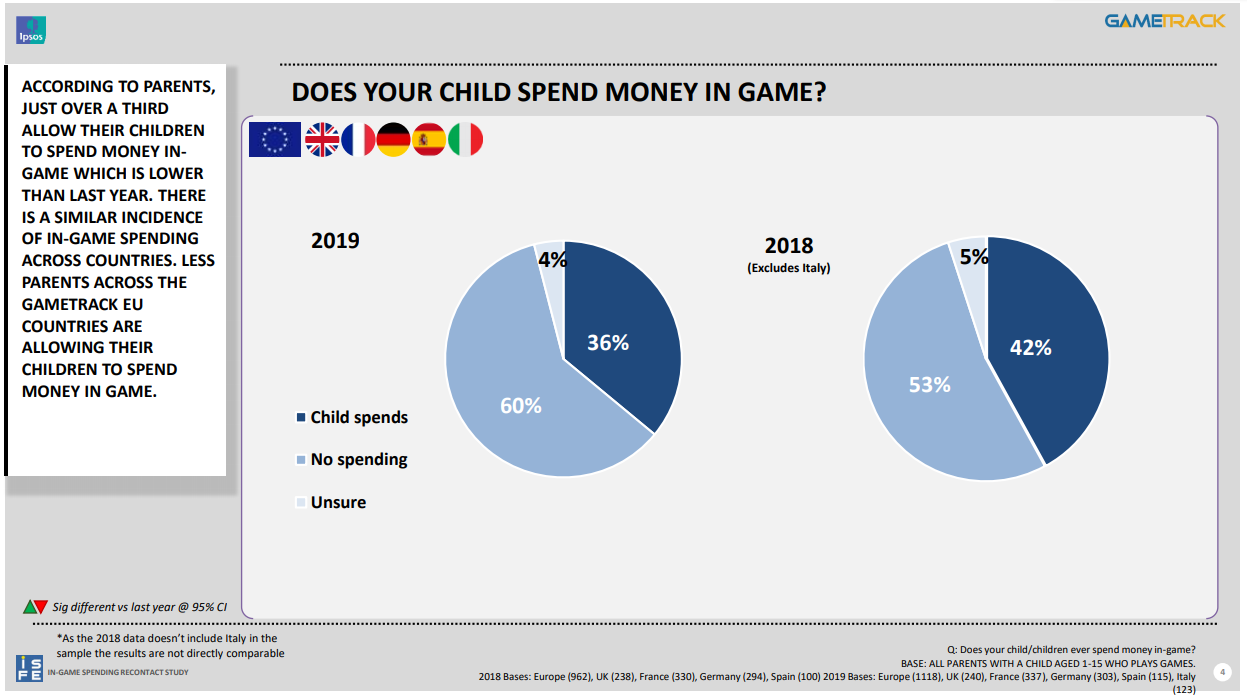 Parents across Europe are getting more involved in their children's in-game spending activities, according to a new ISFE survey.
The European gaming trade group today released results of a GameTrack survey of European parents with kids 15 or under centered on how they handle in-game spending. Two of the bigger takeaways were that more parents were prohibiting their kids from in-game spending of any kind, and that those who did allow it had existing agreements with their children to guide it.
In the 2019 survey, 36% of parents said they allowed their children to spend money in-game, down from 42% in 2018. As for how much their kids spent in-game, 62% said the monthly average was between €1 and €20. The next most common answer to that question was "I don't know," with 16% of parents unable to pin it down.
The survey also found that 85% of parents reported having an agreement with their children to regulate in-game spending, even if that was just the child having to ask permission to make a purchase. That's up from 79% in the 2018 survey. Asking for permission was the most popular method to control in-game spending, with 58% of parents requiring it. 35% had an agreement to stick to weekly or monthly allowances, while 26% limited spending by only using pre-paid cards.
Interestingly, gaming devices' built-in parental control tools were only used by 21% of parents surveyed. (The 2018 survey found 28% of parents reported using them.) The presence of those tools has been a significant part of the industry's arguments against potential loot box legislation, as well as its response to concerns of video game addiction.
However, there is an asterisk to these findings. Because GameTrack added Italy to the markets it was looking at in 2019, the ISFE noted that the 2018 and 2019 surveys are not directly comparable. That said, ISFE CEO Simon Little directly compared them.
"We are delighted to see that parental involvement in children's in-game spending is increasing and that there is good awareness of our PEGI age-ratings," Little said. "We are always looking for ways to do more for our players as an industry and have engaged in information campaigns across Europe to encourage parents to have a dialogue with their children about their online activity and, where appropriate, to use the parental controls to limit or block spending, to set game play time and to control online interaction and privacy settings."
Update: After the publication of this article, an ISFE representative provided more comparable 2019 numbers excluding the impact of Italy. Once the Italy responses were omitted, the percentage of parents who said they allowed their children to spend money in-game was actually down another percentage point to 35%. Additionally, the percentage of parents who struck an agreement with their kids to control in-game spending was up another percentage point to 86%.