Over three times as many video game projects fail than succeed on Kickstarter
Video games continue to stagnate on the platform while board games are breaking records
The Resident Evil 2 tabletop game has raised $1,050,000 on Kickstarter, making it the 88th most funded game project on the site. A triumph to be sure, but one that's indicative of the changing face of the platform.
It's telling that Kingdom Death, a tabletop game which raised over $12 million earlier this year, is the fourth most funded project of all time on Kickstarter. It sits just a few hundred thousand dollars behind the Pebble 2 watch, and Coolest Cooler - and several million dollars behind the original Pebble watch.
Video games on the platform have stagnated; of the 50 most funded games on the platform, 21 are video games, only five of which have been funded in the last two years. Meanwhile tabletop games accounted for 24% of all money raised on successful Kickstarter projects for the first half of 2017.
Overwhelmingly, the most successful campaigns since 2015 are tabletop games. Projects like Exploding Kittens ($8.7 million), The 7th Continent ($7 million), and Zombicide ($5 million) dominate the world of Kickstarter.
Looking at video games in particular there is a trend towards nostalgia among the most successful campaigns. Titles like Shenmue 3 ($6.3 million), Torment: Tides of Numenera ($4.1 million), Pillars of Eternity ($3.9 million), and Mighty No. 9 ($3.8 million) all lean heavily in that direction and reaped the rewards as a result.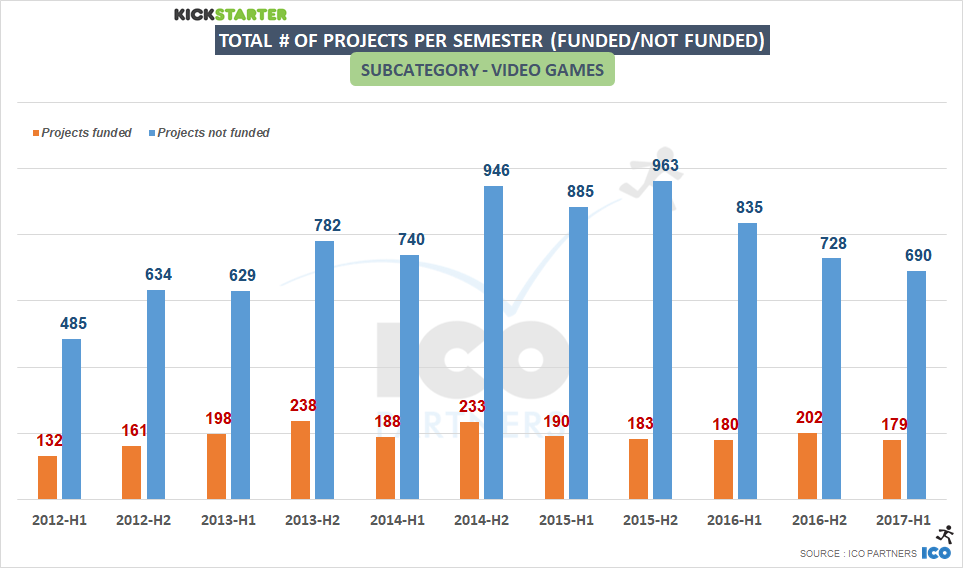 However many of the success stories have been mired by controversy. Shenmue 3 smashed its target of $2 million only for the developers to announce that they would need $10 million total. Additionally, Mighty No. 9 was repeatedly delayed and met with a lukewarm critical reception, leaving many backers feeling burnt. On top of that, Star Citizen raised $2.1 million and is still yet to be released, nearly five years on.
The list of video game projects that have failed to deliver is a long one. From Yogventures and Godus, through to the OUYA, confidence in developers to match consumer expectation has been shattered.
Recent data from ICO Partners supports this, showing that in the first half of 2017 the amount pledged for successful video game projects on Kickstarter was $9.4 million, compared to the peak of $28 million during the same period in 2013.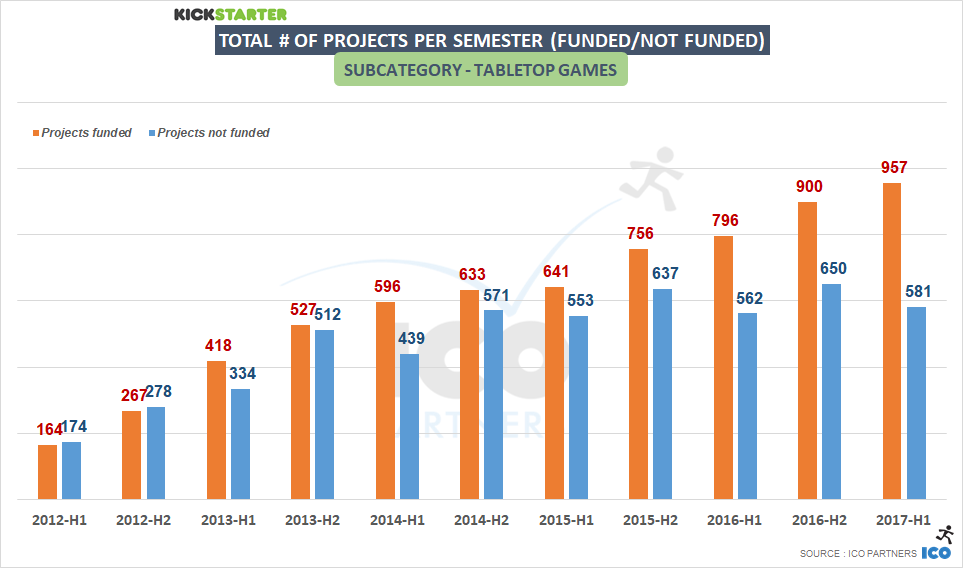 The report's author Thomas Bidaux found that there while there was a growth in the number of games over all appearing on Kickstarter, the amount of video games remained stagnant.
In the first half of 2017, only 179 video games were successfully funded while 690 were not. Compare this to the 957 successfully funded tabletop games and the 581 which failed during the same period, with a total amount pledged breaching $69 million.
Since the heyday of Kickstarter, many of the developers which previously enjoyed runaway success on the site have since migrated over to equity based crowding platform Fig. Double Fine, which broke records with its first Kickstarter by raising $3.3 million, turned to Fig for Psychonauts 2 funding and raised $3.8 million.
The same can be said for developer inXile Entertainment which raised nearly $3 million for Wasteland 2 on Kickstarter, and was able to exceed that on Fig for Wasteland 3.
The number of video and board game campaigns run on Kickstarter since the site launched is over 34,000, but nearly two thirds of those projects failed to reach their targets. The number of successfully funded video games has always been vastly outstripped by the number of failed campaigns. The exact opposite is true for tabletop games however which, since 2013, have seen more successfully funded projects than unsuccessful ones.