Streamlabs: Twitch is still streaming king, though YouTube is gaining ground
YouTube reaches 24% of Twitch's total streaming viewership following its merger of YouTube Gaming with YouTube Live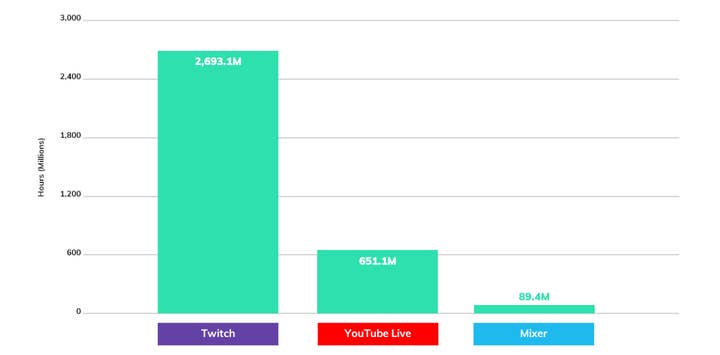 Twitch is still far and away the king of streaming platforms, but in the first quarter of the year YouTube's streaming services began to rapidly gain ground.
According to Streamlab's Q1 2019 report in partnership with Newzoo, YouTube Live's viewership numbers reached 24% of Twitch's total viewership numbers in the last quarter. Despite the gulf between the two, YouTube Live's average number of viewers per channel last quarter was a whopping 52 compared to Twitch's 26 and Mixer's 11.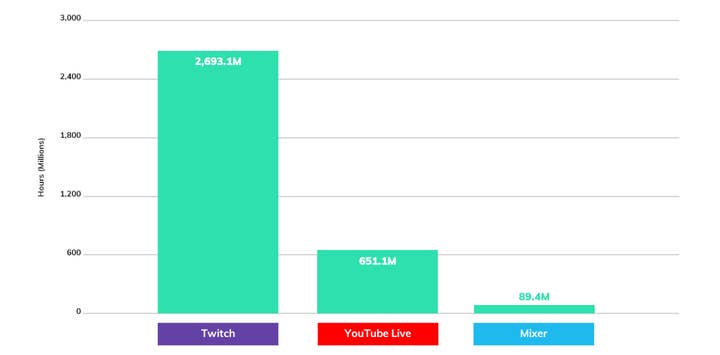 YouTube Live's exact total hours watched, streamed, and number of unique channels were not directly compared to Twitch and Mixer's in this quarter's report from Streamlabs due to a change in how many channels the data was collected from this quarter. Streamlabs says that its data gathering has improved and that for 2019, YouTube Live's numbers will include all channels, not just the top 100.
Twitch saw a total of 2.7 billion hours watched in Q1 of 2019 (up 7% quarter-over-quarter). YouTube Live was at 651 million, and Mixer had 89 million. Though YouTube still trails, Streamlabs says it is currently experiencing rapid growth since the company moved YouTube Gaming into the YouTube Live hub late last year.
As for games, Epic Games remained the most-watched publisher on Twitch, where it's stayed for a year now. However, it may soon be dethroned. Fortnite lost 10% of its viewership from Q4 of 2018 to Q1 2019; the game had 337.2m hours watched last quarter, and dropped 9% this quarter to 304m hours. This was in part due to the rise of Apex Legends - the platform's third most-watched game and second most-streamed game last quarter.
Riot Games and Valve began to pick up steam as well, with Riot Games just narrowly missing beating Epic out for the top spot.