Strategy Analytics: Nintendo to take back console market leadership in 2019
Analyst predicts Nintendo will sell 17.3 million consoles in 2019, overtaking both Microsoft and Sony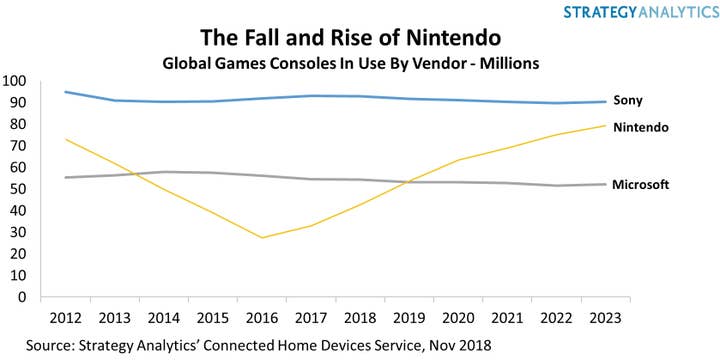 With Sony seemingly preparing for a quiet 2019 and Microsoft rumored to also be on the cusp of an end to its hardware cycle, next year may prove an opportune time for Nintendo to take back control of the hardware market. At least, research and analytics group Strategy Analytics seems to think so.
In its Global Game Console Market Forecast, Strategy Analytics predicts that Nintendo will sell 17.3 million Nintendo Switch units worldwide in 2019, outstripping a predicted 17.1 million PS4 and PS4 Pro units from Sony and 10 million Xbox One and Xbox One X units from Microsoft. That said, overall 2019 console revenue is predicted to drop by 10%.
For 2018, Sony remains the leader, with its systems accounting for almost half of all gaming consoles being used, and 84% of these being PS4 or PS4 Pros. Total, global sales of consoles in 2018 have reached 46.1 million units, the highest that number has been since 2010.
In addition, the report states that console ownership is up, with 45% of North American households and 20% of Western European homes owning at least one console.
"Contrary to some expectations, the global TV games console market remains healthy," said Strategy Analytics director David Watkins. "Many pundits have written it off over the years, for reasons ranging from the emergence of cloud gaming to the dominance of mobile devices and the arrival of VR, but it refuses to die. In fact, there is an argument that the enduring appeal of the TV games console, now in its sixth decade, continues to demonstrate the weaknesses and limitations of alternative games platforms."