Steep reveal highlights Ubisoft's E3
Open-world extreme winter sports title and Star Trek VR game added to lineup; For Honor, Ghost Recon Wildlands dated for early next year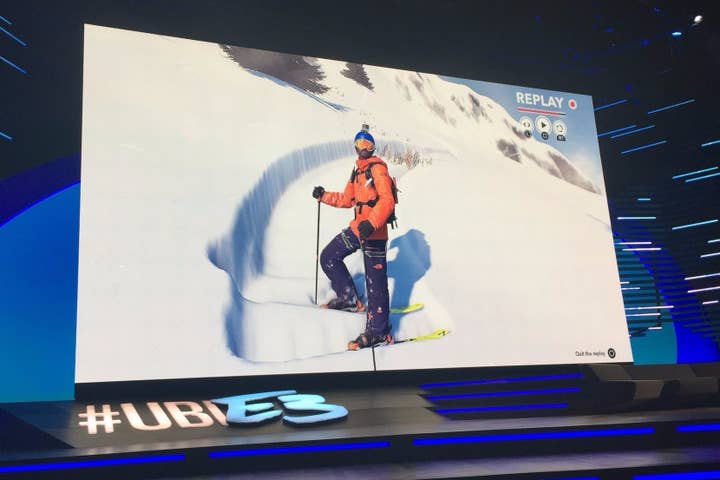 If there's one annualized Ubisoft property unlikely to get an Assassin's Creed-like rest, it's the company's E3 event. And while the series isn't going to have its usual holiday release, the publisher devoted its two-hour press briefing today to detailing a lineup it hopes can fill that void.
The already announced Watch Dogs 2 is perhaps the most obvious title to substitute for Assassin's Creed, launching as it does November 15. Ubisoft revisited the game during its conference with an extended gameplay demo showing a gadget-assisted infiltration of a San Francisco penthouse. Sony's Jim Ryan was also on hand to confirm that Sony Pictures is working on a feature film adaptation of the series, as well as to announce that all Watch Dogs 2 DLC would debut on PlayStation at least 30 days before launching for other platforms.
While Watch Dogs 2 was the most obvious replacement in the lineup for Assassin's Creed, it is not the only one Ubisoft put forward. Yves Guillemot announced a new intellectual property from Ubisoft Annecy, Steep. Shipping this December, Steep is an open-world winter action sports game that features squirrel suit-assisted base jumping, alpine skiing, snowboarding, and paragliding with a heavy focus on multiplayer and community sharing features.
There's even more set for launch this holiday season, as South Park: The Fractured But Whole comes out December 6, and series creators Trey Parker and Matt Stone were on hand to plug the game and detail its super hero movie-inspired premise to the crowd.
This fall will also see some of Ubisoft's first virtual reality experiments come to fruition. Ubisoft introduced Star Trek: Bridge Crew, a co-op VR game set for release this fall "for all major VR systems," and did so with the assistance and approval of some past crew members, including Jeri Ryan, Levar Burton, and Karl Urban.
Conceptually similar to 2012's mobile game Spaceteam, Bridge Crew assigns each player a certain position on the bridge of a starship, and they all must work together in order to complete missions. The company's other VR plans are also coming along, as Oculus' Palmer Luckey and Jason Holtman were on hand to help demo Eagle Flight.
Two of last year's big E3 games for Ubisoft--For Honor and Ghost Recon: Wildlands--also played big roles at the conference, but won't make it out this year. For Honor is set for February 14, while Wildlands comes out March 7.