Steam Spy: $20 games took biggest share of Steam's total revenue in 2017
Sergey Galyonkin questions the power of $10 "sweet spot" for Steam prices
Steam Spy's Sergey Galyonkin has questioned the $9.99 "sweet spot" for game prices on Steam. In an exhaustive new report on Valve's storefront, Galyonkin revealed that games priced at $19.99 earn more of the total revenue.
And this is despite being far outnumbered by games priced at $10. Steam Spy's data shows 4,579 games released with a maximum price of $9.99 in 2017, compared to just 1,321 with a maximum price of $19.99. In his article on Medium, Galyonkin described $9.99 as, "a so-called sweet spot that a lot of indies love."
However, in terms of total revenue earned on Steam in 2017, games priced at $9.99 accounted for 9.63 per cent. Games priced at $19.99 took 16.87 per cent of total revenue, however, while $29.99 was the dominant price-point with 25.56 per cent.
"It's very different if you look into the total revenue, even with all the sales and discounts taken into account," Galyonkin said, but it is even more revealing when PlayerUnknown's Battlegrounds, which had a maximum price of $29.99, is removed.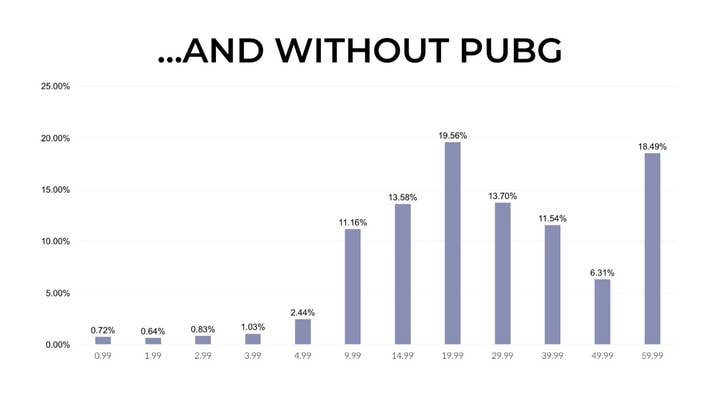 Without PUBG, the most successful game on Steam in 2017, the distribution of revenue is around $19.99, with $59.99 a close second.
"Surprise: cheap games do not make a lot of money," Galyonkin said. "People are still mostly buying relatively expensive and quality titles."
However, the trend in pricing in Steam is still toward cheaper and cheaper games. The median price for an indie game released on the storefront in 2017 was $2.99, Galyonkin observed, compared to $3.99 for all indie games on Steam, and $5.99 when including games of all kinds.
"The pricing situation is also becoming more and more unhealthy and reminds the pre-iOS 11 App Store," he said. "The race to zero is on."
However, Galyonkin noted that the huge number of games now being released - 7,696 last year alone, or 39 per cent of all games on the store - mean that, "counting medians and average is starting to lose its meaning." The amount of revenue needed to break into Steam's top 2,000 games has remained largely the same: $150,000 in 2017, versus $160,000 in 2016.
Overall, last year was the best ever for Steam, with growth in, "every single metric you can imagine." Total revenue was up from $3.5 billion to $4.3 billion, not including free-to-play games or in-app purchases, and the number of people who played a game at least once rose 22 per cent to 291 million.
Steam Spy's report is packed with interesting insight. You can find the full article on Medium.