Steam saw 21% more games sold in 2020
Valve reports storefront had 120 million monthly active users last year, hours played jumped 51% as VR sales rose 32%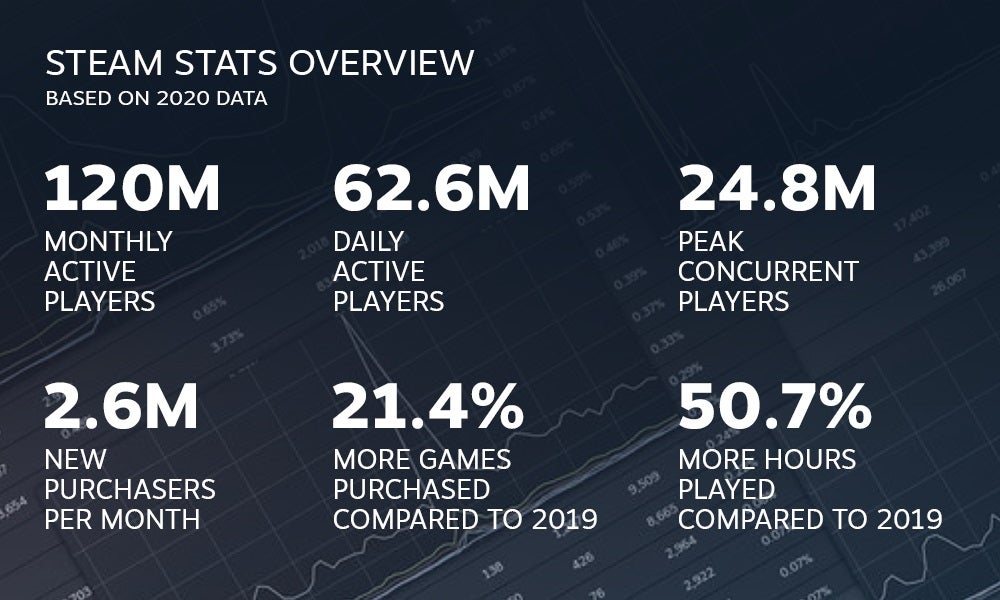 Valve today released an assortment of statistics for the 2020 performance of its digital storefront Steam, providing further perspective on just how much the games industry grew while the global pandemic limited people's entertainment alternatives.
Over the course of 2020, Steam saw 120 million monthly active players, with daily active players of 62.6 million. Game sales were up 21.4% year-over-year, with the total number of hours played on Steam jumping 50.7%.
"While Steam was already seeing significant growth in 2020 before COVID-19 lockdowns, video game playtime surged when people started staying home, dramatically increasing the number of customers buying and playing games, and hopefully bringing some joy to counter-balance some of the craziness that was 2020," the company said.
Valve also reported seeing VR game sales up 32% year-over-year even without the March launch of the company's own Half-Life: Alyx, "which added an additional 39% on top of that."
Valve reported a 71% increase in VR revenue year-over-year, a 30% increase in playtime, and 1.7 million first-time SteamVR users.
Looking forward, Valve said it's planning to officially launch Steam China early this year, and "filing down the rough edges" of the user experience to make buying, installing, and playing games on Steam easier.