Steam pulls game over Gabe Newell death threat
UPDATE: Developer responsible leaves Code Avarice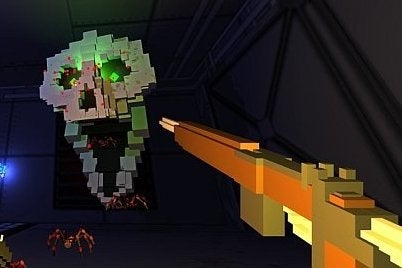 Update
Michael Maulbeck is leaving Paranautical Activity studio Code Avarice after threatening Valve's Gabe Newell on Twitter. He published a statement this morning explaining his departure.
"As a result of my actions, Paranautical Activity, a game made by 4 or 5 people depending on who you count as team members, was removed from steam. I feel is it my responsibility to step down from Code Avarice completely so that Steam has no reason to harbor any more ill will towards the company, and maybe even if we can't see Paranautical Activity restored, at least future Code Avarice games may be allowed onto the platform."
He apologised to Valve and Gabe Newell and explained he has had issues with anger management for some time.
"My temper and tendency to use twitter to vent has been a consistent problem since I entered the games industry, and I just can't do it. I don't have the willpower necessary to be the "face" of a company. If I do continue to work in games it'll be as an anonymous 1 of 1000 at some shitty corporation, not the most public figure of a single digit sized team.
"I've sold my half of Code Avarice to Travis. Given up all my rights to CA as a company, and all it's intellectual properties. I won't receive any money from the sale of Paranautical Activity or any future games CA develops, I won't be consulted on business decisions, and I won't have any hand in development."
Original story
Valve has removed the first-person shooter Paranautical Activity from Steam after its creator, Michael Maulbeck, appeared to threaten the life of Gabe Newell.
The turnaround was rapid. Yesterday, the final version of Paranautical Activity was released on Steam, as part of a Halloween-themed selection of games on Valve's popular distribution platform.
However, an error meant that Paranautical Activity was still advertised as being in Early Access, something that Maulbeck believed would hurt the game's chances of commercial success.
I knew this would greatly cripple sales and confuse customers," Maulbeck said in a statement sent to Eurogamer. "I in fact had already begun getting tweets and emails from people claiming I marked it as Early Access myself to try and avoid criticism of the final version."
Maulbeck's response was, first, to contact Valve, and then to embark on an obviously cathartic series of angry tweets, mostly addressing Valve's perceived incompetence - to wit, "Steam is the most incompetent piece of fucking shit" - and the negative impact of Valve's "awful fucking monopoly" on PC developers who rely on Steam's smooth running to find success.
By the time they fix this we'll no longer be on the front page, and their response will be "oh well"

— Mike Maulbeck (@SpooderW) October 20, 2014
At this point, it's likely that Valve would not have responded to Maulbeck's anger, but then he posted the following tweet (since deleted, image captured by Player Attack).
Valve pulled Paranautical Activity from Steam and closed down Maulbeck's admin accounts, effectively severing ties with the developer completely. In an email sent to Maulbeck - sourced by Eurogamer - Valve explained that it is, "generally comfortable with partners expressing this type of frustration or any other viewpoint directly with us or publicly through social media and the press.
"But one of your tweets this morning was a threat to kill one of our colleagues. Death threats cross a line."
Vale has agreed to keep the Paranautical Activity community page open for any existing customers, as well as offering support to ship any further updates. Maulbeck has since clarified that there was no serious intent in his remark about making an attempt on Gabe Newell's life, but he nevertheless accepts that it was, "totally unacceptable and driven entirely by the heat of frustration I was feeling at the time."
Obviously, this will have a serious impact on the game's chances of success. Speaking on Twitter after Paranautical Activity had been removed, Maulbeck claimed that the game had sold 12 copies on "non-Steam platforms" yesterday - roughly equivalent to the amount it was selling every minute on Steam.
Mike blows up at valve on twitter.

Valve wins because valve.

— Mike Maulbeck (@SpooderW) October 20, 2014