Steady steps for MS at Gamescom press briefing
New Tomb Raider to be platform exclusive, 3 hardware bundles announced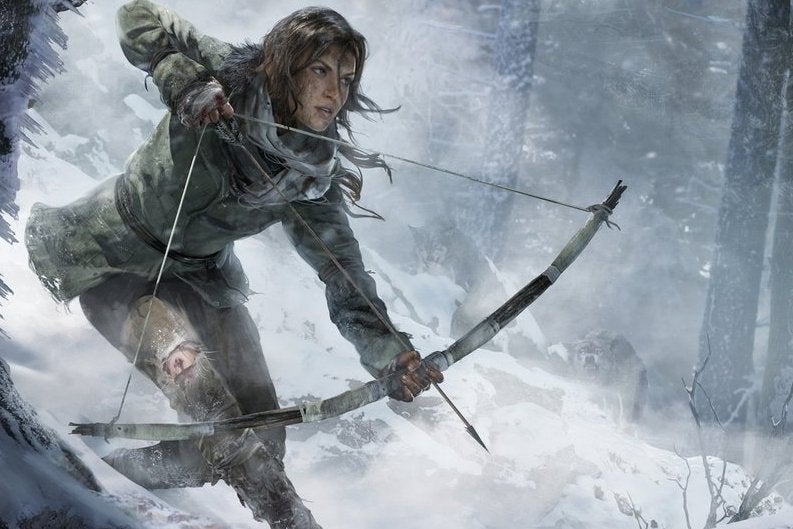 Microsoft has taken relatively cautious steps in its Gamescom press briefing, revealing more details of some of its ID@Xbox titles, new hardware bundles and a couple of big surprises, all punctuated with the usual AAA razzle-dazzle.
Understandably enough, big hitting stalwarts like FIFA and Call of Duty were given considerable stage time, with FIFA 15 Ultimate Team Legends revealed as an Xbox exclusive. In a traditional tip of the hat to being in Europe, Peter Schmeichel made the show's only awkward celebrity appearance to demonstrate it. In addition, a new FIFA 15 Xbox One bundle was announced: available from September 25th for £349.99.
ID@Xbox took to the stage next, beginning with a quick-cut trailer of the couple of dozen titles on their way to the program, including a very sneaky inclusion of the previously unannounced Goat Simulator. Space Engineers, Smite, Superhot, Plague Inc. and Below also took a share of the limelight, showing a marked commitment by Microsoft to its indie promises.
Next up was Call of Duty: Advanced Warfare, with an elongated gameplay demo which saw a team of exo-suited and booted soldiers attempting to prevent the demolition of the Golden Gate Bridge by non-specified bad guys. Spoilers: they fail, with the demo ending as the player character and his gruff British companion stared mournfully into a gaping hole on the famous sightseeing destination. Sledgehammer's playthrough was followed by the news of the second game and box bundle of the presentation, with a £429.99 CoD: AW machine, including a 1TB hard drive, hitting shops when the game releases.
After a brief outing for Turtle Rock's ambitious team shooter Evolve, Microsoft unveiled its first big news of the afternoon: Rise of the Tomb Raider, the forthcoming Lara Croft game from Square-Enix, will be a Xbox exclusive. Not timed, but lifetime. Phil Harrison, beaming, took the stage to make it clear that everything from here on in would also be exclusive to Microsoft's consoles.
Quantum Break was first up in that list, followed by Fable Legends and a new rollercoaster game from Frontier called ScreamRide - a game which shows considerably more bloodlust than Frontier's Rollercoaster Tycoon series, albeit bloodlust of a slapstick bent. Forza Horizon 2 was next, including a couple of exclusive high-performance cars in the shape of the Formula E and the Rolls Royce Wraith.
Ori and the Blind Forest made a short break in the AAA exclusives before Sunset Overdrive thundered onstage, rattling off colourful explosions and comedy evisceration before introducing another hardware bundle: a pristine white Xbox One for £349.99.
Finally, it was time for Microsoft's not-so-secret superweapon to be brought to bear. Halo took to the floor, not just in the form of the impressive looking Master Chief Collection and the brand new Halo V: Guardians, but also with the announcement of The Halo Channel, an apparent evolution of Halo Waypoint which will combine uploaded player clips, stats, lore and episodes of the brand new Halo Nightfall series. As part of the Halo channel, Microsoft also revealed a partnership with Twitch, undoubtedly putting some serious streaming kudos behind the ambitious project.
"Our goal today was to show you our continued commitment to making Xbox One the best place to play games this holiday," said Phil Spencer, before making one last announcement: pre-order pre-loading is coming to Xbox One, beginning with Forza Horizon 2.
Game on, Sony.