Star Citizen funding total over $6 million
Chris Roberts' space sim has shot past other crowd-funded games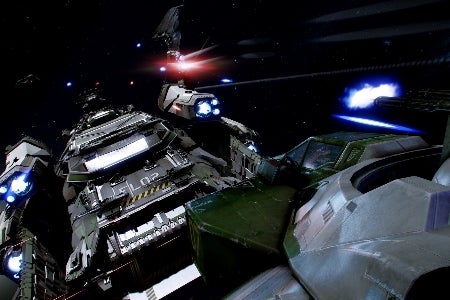 Star Citizen's combination funding drive has finished with a total of $6.2 million, a record for a crowd-funded game title. The previous record holder was Obsidian's Project Eternity RPG, which ended with a total of $4.16 million. Star Citizen is the first game from Cloud Imperium Games, the studio founded by Wing Commander creator Chris Roberts.
The game's funding drive took place on Kickstarter and the game's official site, Roberts Space Industries. Unlike Project Eternity, Star Citizen actually received more funding through direct means than through Kickstarter. The Kickstarter reached $2,134,374 spread across 34,397 backers, while the drive on the official site had $4,104,189 with 55,270 backers.
"I am absolutely elated by the incredible outpouring of support for this project," said Roberts. "It's clear that space sim fans have just been waiting for a game like ours to come along and rekindle some of the excitement that's been missing from PC games and the space sim genre. With the resources that our fans have provided, it means the team will be able to provide more features in Star Citizen and deliver an even better game."
"I've been looking for an opportunity to jump back into gaming," said Roberts. "With all the tools and tech currently available, I can now make a game that really provides gamers with cutting-edge visuals, a highly detailed, immersive world and visceral, heart-pounding combat that only the PC can provide. In fact, PC gamers don't need to take a back seat to any other platform. With Star Citizen, I want them to be able to stand up, be counted and completely enjoy all that their PC can deliver."
Players who funded Star Citizen can upgrade their tiers to receive additional perks and others still wishing to fund the project can still do so at higher prices. Star Citizen is expected to reach alpha by Winter 2013.