Skylanders Giants can't topple FIFA
Doom 3: BFG Edition and 007 Legends arrive in UK software top 20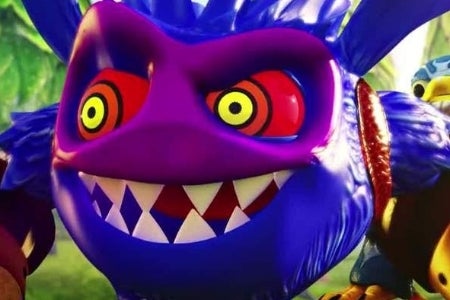 Skylanders Giants made an impressive debut at number 2 on the UK software chart this week, but it still wasn't enough to knock the mighty FIFA 13 off the top. The football title is now on its fourth consecutive week at number one.
Shooter re-release Doom 3: BFG Edition made it in at number 5, but Bond game 007 Legends failed to shine, entering the chart at number 12. The new Bond movie, Skyfall, is released this week, so the title could see a benefit in next week's chart.
Elsewhere on the chart there was little change, Dishonored stayed just inside the top 3, Just Dance 4 crept up the chart to 4 and XCOM: Enemy Unknown dropped to 10.
Ukie Games Charts provided courtesy of GfK Chart-Track.
| Last Week | This Week | Title |
| --- | --- | --- |
| 1 | 1 | FIFA 13 |
| New Entry | 2 | Skylanders Giants |
| 2 | 3 | Dishonored |
| 6 | 4 | Just Dance 4 |
| New entry | 5 | Doom 3: |
| 3 | 6 | Pokemon Black Version 2 |
| 4 | 7 | Resident Evil 6 |
| 8 | 8 | Borderlands 2 |
| 5 | 9 | Pokemon White Version 2 |
| 7 | 10 | XCOM: Enemy Unknown |
| 9 | 11 | F1 2012 |
| New entry | 12 | 007 Legends |
| 10 | 13 | The Elder Scrolls V: Skyrim |
| 14 | 14 | Rocksmith |
| 12 | 15 | Pro Evolution Soccer 2013 |
| 15 | 16 | New Super Mario Bros. 2 |
| 11 | 17 | Sleeping Dogs |
| 19 | 18 | LEGO Batman 2: DC Superheroes |
| 13 | 19 | Forza Motorsport 4 |
| 16 | 20 | Gran Turismo Academy Edition |