Shadow of Mordor leads GDC Award nominees
Monolith Middle-earth game gets five nods; Vanishing of Ethan Carter garners four nominations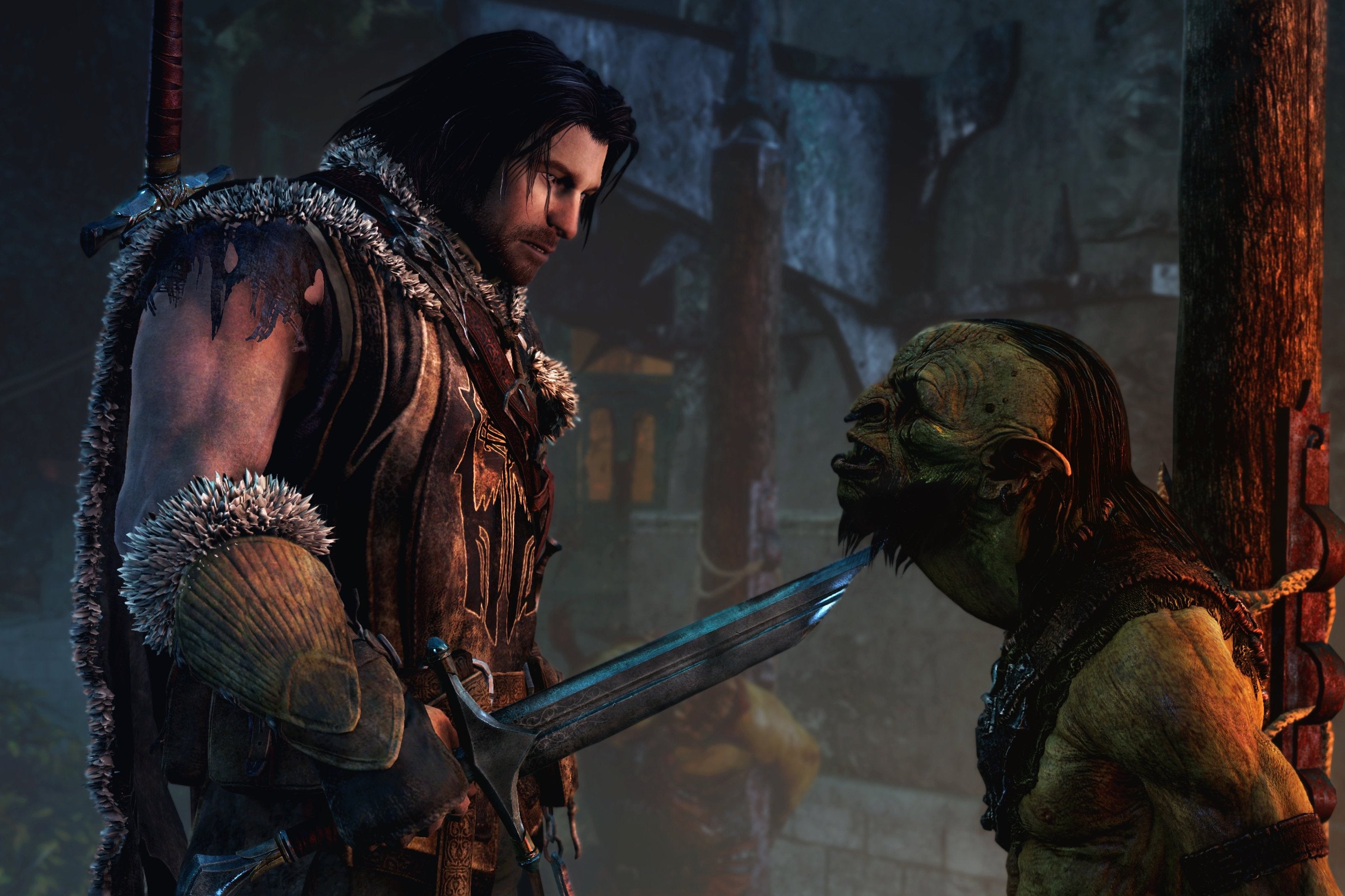 Nominees for the Game Developers Choice Awards were announced today, and Monolith Production's Middle-earth: Shadow of Mordor is poised to have a big night when the winners are announced in March. The Warner Bros. Interactive Entertainment action game was nominated in five different categories, including Game of the Year, Best Design, Best Narrative, Best Technology, and the Innovation Award.
While Mordor represents the AAA industry, the next most nominated game comes from the indie ranks. The Vanishing of Ethan Carter was shut out of the Game of the Year category, but it earned four other nominations: Best Narrative, Best Audio, Innovation Award, and a Best Debut for the Polish studio that created it, The Astronauts.
Rounding out the Game of the Year candidates are a handful of other games receiving nods in multiple categories. Destiny, Alien: Isolation, and Hearthstone: Heroes of Warcraft are each up for two awards in addition to Game of the Year, while Bayonetta 2 will have to settle for chances at the big award and Best Visual Art.
The winners will be announced March 4 at the Game Developers Choice Awards ceremony during the Game Developers Conference in San Francisco. In addition to the main categories and nominees below, there will also be an Audience Award determined by an online poll, as well as special Pioneer, Ambassador, and Lifetime Achievement awards, recipients of which will be announced prior to the event.
Game of the Year
Bayonetta 2 (Platinum Games/Nintendo)
Destiny (Bungie/Activision)
Alien: Isolation (Creative Assembly/Sega)
Hearthstone: Heroes of Warcraft (Blizzard)
Middle-earth: Shadow of Mordor (Monolith Productions/Warner Bros. Interactive Entertainment)
Honorable Mentions: Titanfall (Respawn/Electronic Arts), Valiant Hearts: The Great War (Ubisoft Montpellier/Ubisoft), Far Cry 4 (Ubisoft Montreal/Ubisoft), Dragon Age: Inquisition (BioWare/Electronic Arts), Super Smash Bros. for Wii U (Sora Ltd. and BANDAI NAMCO/Nintendo)
Innovation Award
Bounden (Game Oven)
Middle-earth: Shadow of Mordor (Monolith Productions/Warner Bros. Interactive Entertainment)
This War of Mine (11 bit studios)
Monument Valley (Ustwo)
The Vanishing of Ethan Carter (The Astronauts)
Honorable Mentions: Crypt of the Necrodancer (Brace Yourself Games), Extrasolar (Lazy 8 Studios), Elite: Dangerous (Frontier Developments), Elegy For A Dead World (Dejobaan Games), 80 Days (Inkle Studios)
Best Debut
Yacht Club Games (Shovel Knight)
Respawn Entertainment (Titanfall)
The Astronauts (The Vanishing of Ethan Carter)
Stoic Studio (The Banner Saga)
Upper One Games (Never Alone)
Honorable Mentions: Dynamighty (CounterSpy), Hinterland Games (The Long Dark), 1337 & Senri (Leo's Fortune), MachineGames (Wolfenstein: The New Order), Hipster Whale (Crossy Road)
Best Design
Middle-earth: Shadow of Mordor (Monolith Productions/Warner Bros. Interactive Entertainment)
Shovel Knight (Yacht Club Games)
Dragon Age: Inquisition (BioWare/Electronic Arts)
Captain Toad: Treasure Tracker (Nintendo EAD Tokyo and 1-Up Studio/Nintendo)
Hearthstone: Heroes of Warcraft (Blizzard)
Honorable Mentions: Mario Kart 8 (Nintendo EAD Tokyo/Nintendo), Alien: Isolation (Creative Assembly/Sega), Destiny (Bungie/Activision), Monument Valley (Ustwo), Far Cry 4 (Ubisoft Montreal/Ubisoft)
Best Handheld/Mobile Game
Threes! (Sirvo)
Super Smash Bros. 3DS (Sora Ltd. and BANDAI NAMCO/Nintendo)
Hearthstone (Blizzard)
80 Days (Inkle Studios)
Monument Valley (Ustwo)
Honorable Mentions: Bounden (Game Oven), Bravely Default (Silicon Studio and Square Enix/Nintendo and Square Enix), Desert Golfing (Blinkbat Games), Velocity 2X (FuturLab), Fantasy Life (Level-5/Nintendo)
Best Visual Art
Monument Valley (Ustwo)
Hohokum (Honeyslug and Sony Santa Monica/Sony)
Child of Light (Ubisoft Montreal/Ubisoft)
Bayonetta 2 (Platinum Games/Nintendo)
Alien: Isolation (Creative Assembly/Sega)
Honorable Mentions: Never Alone (Upper One Games/E-Line Media), The Vanishing of Ethan Carter (The Astronauts), Transistor (Supergiant Games), Broken Age: Act 1 (Double Fine Productions), Destiny (Bungie/Activision)
Best Narrative
80 Days (Inkle Studios)
This War of Mine (11 bit studios)
Kentucky Route Zero: Episode 3 (Cardboard Computer)
Middle-earth: Shadow of Mordor (Monolith Productions/Warner Bros. Interactive Entertainment)
The Vanishing of Ethan Carter (The Astronauts)
Honorable Mentions: Dragon Age: Inquisition (BioWare/Electronic Arts), Valiant Hearts: The Great War (Ubisoft Montpellier/Ubisoft), Tales From The Borderlands: Episode 1 (Gearbox Software/Telltale Games), D4: Dark Dreams Don't Die (Access Games/Microsoft), Hatoful Boyfriend (Mediatonic/Devolver Digital)
Best Audio
Alien: Isolation (Creative Assembly/Sega)
Hohokum (Honeyslug/Sony)
Destiny (Bungie/Activision)
Transistor (Supergiant Games)
The Vanishing of Ethan Carter (The Astronauts)
Honorable Mentions: Child of Light (Ubisoft Montreal/Ubisoft), Far Cry 4 (Ubisoft Montreal/Ubisoft), D4: Dark Dreams Don't Die (Access Games/Microsoft), Bayonetta 2 (Platinum Games/Nintendo), Crypt of the Necrodancer (Brace Yourself Games)
Best Technology
Destiny (Bungie/Activision)
Middle-earth: Shadow of Mordor (Monolith Productions/Warner Bros. Interactive Entertainment)
Wolfenstein: The New Order (MachineGames/Bethesda)
Elite: Dangerous (Frontier Developments)
Far Cry 4 (Ubisoft Montreal/Ubisoft)
Honorable Mentions: Assassin's Creed Unity (Ubisoft Montreal/Ubisoft), The Last of Us: Remastered (Naughty Dog/Sony), Sunset Overdrive (Insomniac Games/Microsoft), Alien: Isolation (Creative Assembly/Sega), Infamous: Second Son (Sucker Punch Productions/Sony)