Alpha Protocol removed from Steam as music rights expire
Update: Sega says it still owns the IP, but nine-year-old game contains songs that would need re-licensing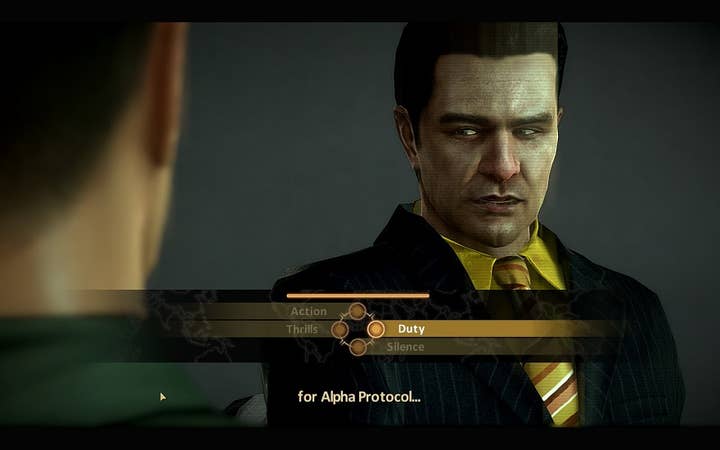 Update June 20, 2019: Eurogamer has updated its story with clarification on why Alpha Protocol has been pulled from Steam.
In a new statement, Sega has said that it still owns the Alpha Protocol IP, but that expired music rights resulted in its removal from Steam. The game includes a number of licensed songs which likely had those licensed expire after nine years.
Original story:
Sega's publishing rights for Alpha Protocol have now expired, resulting in the game's removal from Steam.
Eurogamer noticed that the Steam page for Obsidian Entertainment's spy-themed RPG featured the following statement from Sega, which published the game in May 2010.
"Notice: At the request of the publisher, Alpha Protocol is no longer available for sale on Steam."
A spokesperson for Sega clarified that the withdrawal of Alpha Protocol was due to the expiration of the company's publishing rights, putting the game back in the hands of Obsidian Entertainment.
Or, rather, back in the hands of Microsoft, which acquired Obsidian in November last year. That deal was one of a series intended to secure more first-party content for Xbox Game Pass, which is now the natural home for Obsidian's back catalogue.
We interviewed Feargus Urquhart, co-founder of Obsidian, in July 2016, about life as an independent AAA developer, and the many pressures and compromises that come with it. Alpha Protocol was hampered, he said, because, "we weren't even totally sure what we wanted to make until, like, way into the game -- and that's bad."
Nevertheless, Alpha Protocol had many fans within the games press, and has been critically reappraised in the year since its underwhelming commercial performance. For more, you can read Eurogamer's retrospective on the game.
Additional reporting by Rebekah Valentine.