Report: Animal Crossing: Pocket Camp surpasses 15m downloads
Bigger than Fire Emblem Heroes but below Super Mario Run
Nintendo's latest smartphone effort, Animal Crossing: Pocket Camp, has been downloaded more than 15m times, claim analysts Sensor Tower.
That includes sales from both App Store and Google Play and is based on the firm's store intelligence data. Super Mario Run was downloaded 32m times during its first six days across both platforms (note: the game was released on the App Store three months before Google Play), while Fire Emblem Heroes achieved an estimated 7m downloads.
By comparison, Supercell's Clash Royale was downloaded 17m times in its first six days.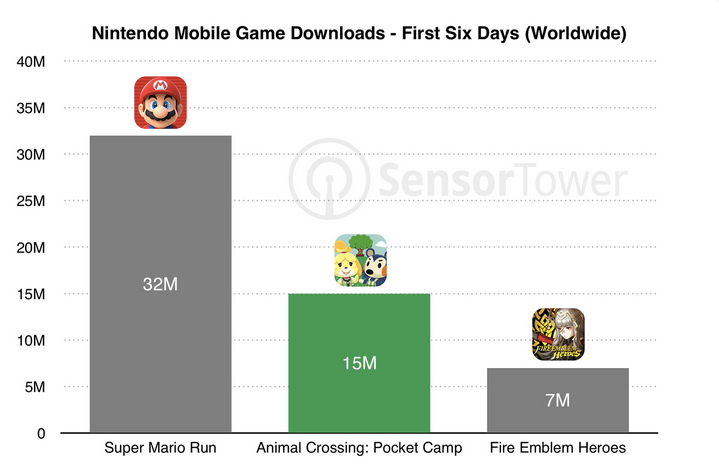 The challenge for Nintendo now is to monetize the game effectively, the data tracker says.
"So far, the game is performing best in this regard in Nintendo's home territory of Japan, where it's currently ranked No. 10 on the iPhone top grossing chart," the company states on its blog.
"It had reached as high as No. 5 there on November 25th. The game has a ways to go in reaching a similar high in other major markets, such as the US, where it is currently ranked at No. 72 for revenue among all iPhone apps. By comparison, the more hardcore Fire Emblem Heroes reached No. 8 grossing in the U.S. the day after launching here, and climbed as high as No. 6 on August 31 of this year."
The title has received a mixed reaction from critics since its initial release. It has been called 'charming' by some critics and 'a scam' by others.