Rare, Criterion, Sumo Digital, Eurogamer, Ubisoft and more join our free student event next week
Check out the talent joining GI Academy: Live, in partnership with Creative Assembly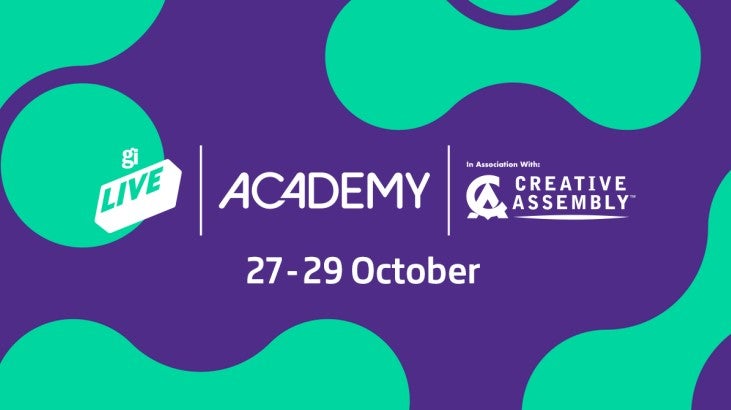 Huge games studios have signed-up to speak with students at next week's GI Live: Academy.
The free event is for people looking to find out more about careers in video games, and takes place October 27th - 29th. It'll feature roundtables, keynote sessions and the chance to talk with developers one-to-one.
Event partner Creative Assembly will be there in force, and will host talks, roundtables and one-to-one sessions featuring the likes of UX and UI designers Anna Wikstrom and Alex Tokmakchiev, cinematic animator Chloe Bonnet, plus development manager Douglas Pennant, with more to be announced.
Rare's Sea of Thieves team will also be joining the free event, including social media leader James Bowden, game designer Steve Dillon, producer Louise Roberts, and principle environment artist Glen Fox.
Need for Speed developer Criterion will also be present, with lead concept artist Josh Atack and technical director Garry Casey. And Ubisoft Reflections' technical artist Liz Beer will also be chatting with the next generation of game makers.
Other companies set to appear include EA Dice (Mikael Hellberg, art craft manager) DR Studios (Richard Stokes, VFX artist), Sumo Digital (Dr Jacob Habgood, director of education partnerships), D3T (artists Eva Lynch and Beth Lawton), Ico Partners (David Ortiz, chief communication officer), Curve Digital (Bobby Wertheim, VP of partnerships), voice actor JD Kelly, media giant Eurogamer, Cooperative Innovations (Nele Steenput, character artist), Electric Square (Charlotte Pook, talent acquisition manager) and Payload studios (Lewis Kielthy, junior QA tester).
We will also have famous faces from the worlds of game composition, writing and design popping in over the course of the three days.