Randy Pitchford, Penn Jillette to kick off DICE 2016
Gearbox president joined by famous magician to perform magic trick "that will move from the live theater to virtual reality"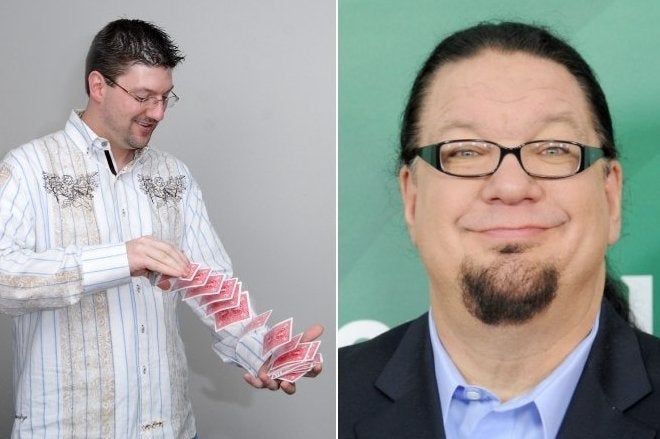 The Academy of Interactive Arts & Sciences today revealed its final speaker lineup for the 2016 DICE Summit taking place February 16-18 at the Mandalay Bay Convention Center in Las Vegas. To kick things off, DICE is leveraging Gearbox boss Randy Pitchford's experience as a magician and teaming him with Penn Jillette (from the magic team Penn and Teller). The duo will present a talk on "Assumptions and Expectations with Interactivity and Magic," and then they intend to lead the audience through a magic trick involving the theater and VR.
Interestingly, DICE is also examining the automobile industry this year. Rich Hilleman, chief creative director at Electronic Arts, will lead a panel "Automobiles, the Next Mobile Platform," which will look at how gaming can get involved with computing systems in cars. The panel will include Dr. Frankie James, managing director, General Motors Advanced Technology Silicon Valley Office, Sahin Kirtavit, Senior Director of Automotive Solutions, Nvidia, and Oriol Servia, partner and managing director of Formula E team, Dragon Racing.
And in another talk tangential to interactive entertainment, film and television producers Roy Lee and Adrian Askarieh will be joined by Steven Weintraub, from entertainment website Collider, to discuss the entertainment industry's "relentless pursuit of franchise material and evergreen properties." The talk, "Franchise Fever: Pursuing Big Ideas and Big Audience," will look at the challenges of pursuing "high concept, big idea properties with avid fan bases," which is certainly something many game developers can relate to.
Other new speakers confirmed for DICE this year include Tommy Francois, new IP editorial director, Ubisoft, and Rhianna Pratchett, writer, narrative designer and lead writer for the Tomb Raider reboot. These two join the already announced lineup tha includes Sid Meier, Bruce Shelley, Niccolo de Masi, Mike Gallagher, Brian Reynolds, Todd Howard, and Soren Johnson.
"Engagement is central to both business and art," said Martin Rae, president, Academy of Interactive Arts & Sciences. "This year a variety of talented people will explore engagement and how it deeply affects what they do - whether it is advancing automobile technology, building boundless entertainment franchises, or creating open worlds based on experience. As always, our audience will be treated to big ideas that will help drive their own creative pursuits forward."