PUBG most downloaded mobile game last quarter, but revenue flags
Sensor Tower Data Digest: Total mobile game downloads up to 2.4 billion on iOS and 7.23 billion on Android
PlayerUnknown's Battlegrounds was the most downloaded mobile game last quarter despite only releasing in mid-March, reaching around 60 million installs across Android and iOS.
According to the latest Store Intelligence Data Digest from Sensor Tower, PUBG was downloaded more times than Snapchat, YouTube, Netflix, and Spotify.
While PUBG didn't make the top 20 downloaded apps on Android, it was the second-most downloaded app on iOS with around 40 million installs.
Even so, PUBG was not among the highest earning apps last quarter. In fact, Fortnite generated five times more revenue than PUBG during both games' respective first week of monetisation on iOS.
Although Fortnite has been an unmitigated success, generating $25 million revenue in its first 30 days on iOS, its numbers were still meager enough compared to the titans of mobile that it did not make an appearance anywhere in the report.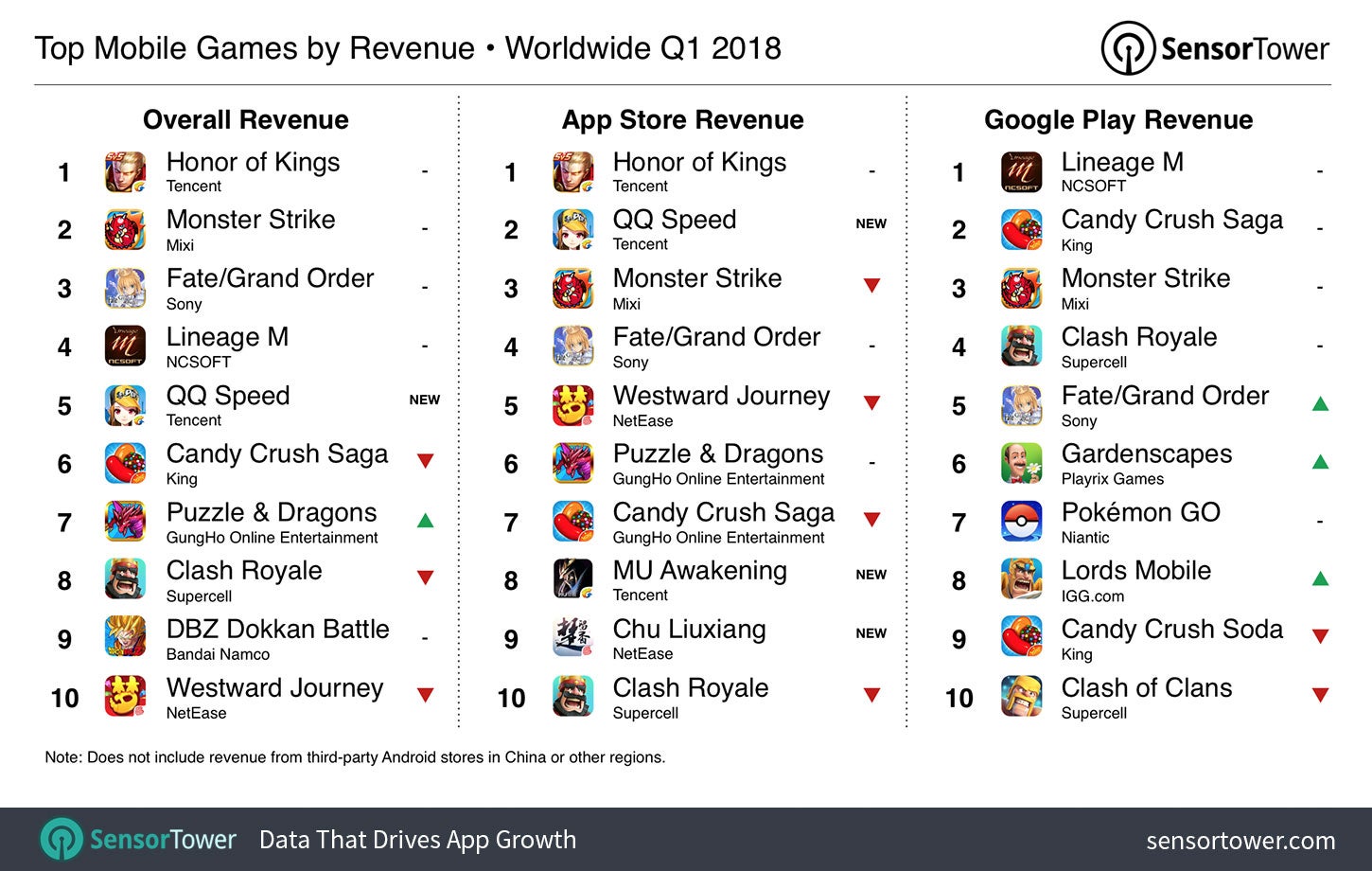 Tencent's Honor of Kings was the highest earning mobile game for the period, followed by Monster Strike and Fate/Grand Order. The highest earning mobile games stayed relatively static last quarter with only Pokémon Go having recently dropped off the top ten list, replaced by Tencent's QQ Speed.
Unsurprisingly, Tencent led as the publisher with the highest overall revenue, including games and all other categories. This is taking into account Facebook, which had four of the five most downloaded apps worldwide.
Games also remained the largest category on mobile. Game downloads on the App Store were up by 15.8 per cent from 2.07 billion in Q1 2017 to 2.4 billion in Q1 2018. The second-most popular category on iOS was photo and video which, despite seeing a 16.9 per cent increase year-on-year, came in with only 619 million total downloads.
Google Play tells a similar story, only with much bigger numbers. Games growth was lower on Android, increasing only 4.7 per cent year-on-year, but reaching a total of 7.23 billion downloads last quarter compared to 6.91 billion the year prior. The second-most popular category was tools, which grew 0.5 per cent to 1.26 billion downloads.