PS4, Xbox One software up 94% but GameStop's holiday numbers slide
Global sales for the retailer were down nearly 7% during the holiday period compared to 2013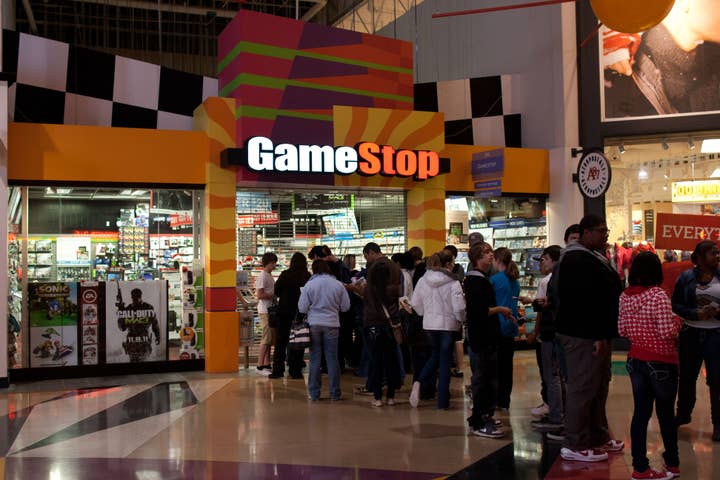 GameStop today reported its nine-week holiday performance ended on January 3, 2015. New software sales were up 5.8 percent, fueled by a 94.4 percent increase in PS4 and Xbox One software. The retailer cited key titles like Call of Duty: Advanced Warfare, Grand Theft Auto V and Far Cry 4. That being said, total global sales for the company during the holiday period were $2.94 billion, representing a 6.7 percent dip when compared to the 2013 holiday sales period.
GameStop said the current strength of the U.S. dollar caused a negative impact by foreign currency exchange rates. Additionally, total comparable store sales decreased 3.1 percent (down 3.3 percent in the U.S. and down 2.7 percent overseas). November was especially tough as comparable store sales declined 12 percent thanks to the comparison with last November's PS4 and Xbox One launches; comparable store sales ticked back up 4.4 percent in December. Overall, sales of new hardware declined 32 percent, but GameStop said demand for next generation hardware continues to be strong and it cited a 31.3 percent jump in units sold in December 2014 compared to December 2013.
GameStop's pre-owned category dipped 1.3 percent but sales in the mobile & consumer electronics category increased 28 percent, and importantly, Non-GAAP digital receipts increased 42.8 percent to $296.6 million, thanks to console digital sales, which grew more than 50 percent compared to the prior year period.
Paul Raines, chief executive officer, stated, "During the holiday period, consumer demand for video games was strong, resulting in new software sales growth. We expect that trend to continue into the first quarter. Overall, each of our business units performed well giving us positive momentum as we look toward 2015."
Looking to its fourth quarter, GameStop reiterated earnings per share guidance of $2.08 to $2.24, and $3.40 to $3.55 for the full year. The retailer also expects comparable store sales for the fourth quarter to be down between 1.0 and 2.5 percent, and down between 2.0 and 4.0 percent for the full year.