Presidential debate draws 100,000 on Xbox Live
Swing voters call it for Obama as Microsoft touts engagement numbers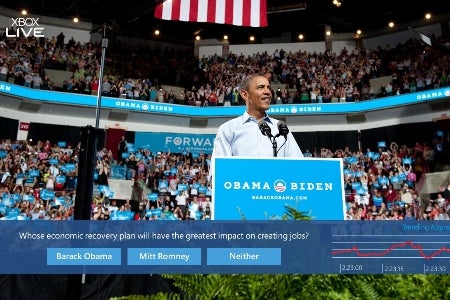 Microsoft's efforts to make Xbox Live a destination for more than games are yielding dividends. The company announced today that more than 100,000 people tuned into the Xbox Live coverage of the second US presidential debate between Barack Obama and Mitt Romney, with an average of 35,000-40,000 of them answering 70 poll questions asked in real time throughout the debate.
While Microsoft didn't give numbers on who its users planned to vote for, it did say that roughly 2,000 undecided voters answered poll questions. Of those, 51 percent thought Obama won the debate, 17 percent gave Romney the edge, and the remaining 32 percent were unsure who won. Afterwards, 28 percent of undecided users were at least leaning toward Obama, while Romney had similarly picked up 10 percent of the swing set.
The participation in Xbox Live's presidential debate coverage may reflect more than a simple groundswell of civic minded responsibility among the service's 40-million-strong user base. Microsoft is giving free Halo 4 armor for Avatars to anyone who watches three of the four presidential and vice presidential debates on Xbox Live.