PlayStation Vita joins the free-to-play party with Montezuma Blitz
Alawar's Treasures of Montezuma Blitz is the Vita's first freemium game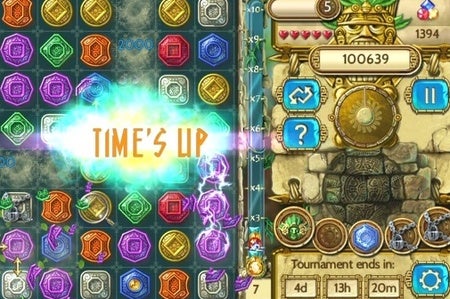 Alawar Entertainment has announced Treasures of Montezuma Blitz, the very first free-to-play game for PlayStation Vita. Vita owners can download the title on PlayStation Network for free, and all power-ups can be earned in-game or purchased through the in-game store.
"Treasures of Montezuma Blitz is the one game that every Vita owner should own, not just because it's completely free, but because it's really fun," said Dmitri Bourkovski, VP, New Platforms of Alawar Entertainment. "The Power-ups are totally optional, but a very fun way to be competitive with your friends if you don't have as much time to earn them in game."
The Bejeweled-style puzzle game uses crystals as the in-game currency. Players receive a single scratch card for free each day, giving them an alottment of crystals, or they can purchase more scratch cards fo 99 cents or crystal bundles for $2.99.