PlayStation 4 controller pics surface
Multiple photos show touchpad-equipped prototype controller for Sony's next system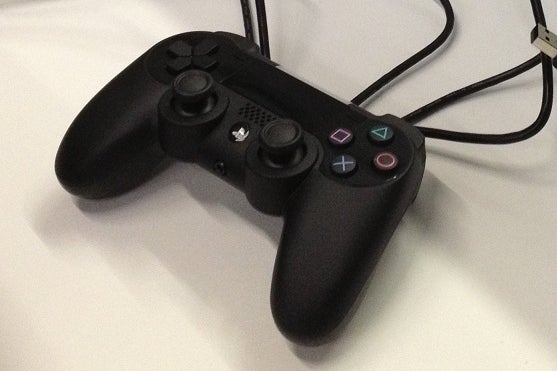 Sony is expected to unveil the next PlayStation console at a New York City event next Wednesday, but a pair of pictures purportedly showing the system's dev kit may have let some cats out of the bag. The pictures, posted on Destructoid and on the Twitter feed of Digital Foundry, provide some insight into where Sony is looking to go with its next set-top box.
The most notable aspect of the controllers in the pictures is that they feature touchpads in the center. In addition, they have a panel above the touch pad that lights up, which Digital Foundry reckons would be used to give the controller PlayStation Move-like motion-sensing capabilities.
While the general shape of the pad seems to fall in line with the DualShock 3 currently used with the PS3 (although perhaps a bit bulkier), there are a handful of other differences. The new pad appears to have a speaker embedded in the center, just under the touchpad, and features a headset jack on the bottom. Additionally, the twin analog sticks have a new contoured top with a bit of a lip around the edge, as opposed to the smoother mushroom tops of past DualShocks.
Neither Destructoid nor Digital Foundry explained where the images originated from, but a Digital Foundry report on Eurogamer cited its own sources with verifying the credibility of Destructoid's image before updating its Twitter feed with a picture of its own. Destructoid also updated its story to say that multiple sources confirmed the photo was real, but called the controller an early prototype.