Peter Molyneux: Keep it simple, keep it crazy
Veteran UK designer opens Unite conference with first public demonstration of 22 Cans' Curiosity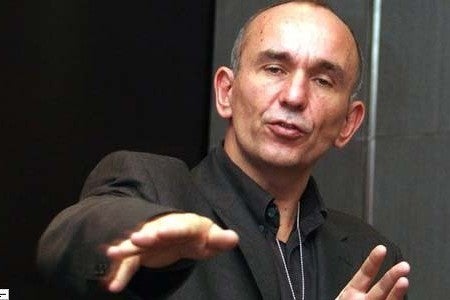 During the opening keynote speech at the Unite conference in Amsterdam, veteran UK designer Peter Molyneux stressed the importance of simplicity and focus in game development.
Molyneux left Microsoft earlier this year to start an independent studio, 22 Cans; a process that he described as "scary", but one that has allowed him to attain the sort of "singular focus" on a "singular idea" that his previous job precluded.
"The amazing thing about where we are today is that the whole world are becoming gamers, and if you really want to engage all of those people you've got to think about simplicity," he said.
"20 years ago we thought we had about 10 minutes of someone's time before they got bored. Nowadays, that's down to about a tenth of a second"
"We thought simplicity was important 20 years ago, when we thought we had about 10 minutes of someone's time before they got bored. Nowadays, that's down to about a tenth of a second; that's how long it takes for someone to press a button and move on to something else."
Molyneux gave the opening keynote at Unity Technologies' annual conference due to 22 Cans' use of the Unity engine in its series of experimental projects. The first project, Curiosity, is a large virtual cube that players can whittle down until the secret at its core is revealed to the person who makes the last incision.
Molyneux demonstrated Curiosity for the first time at Unite, revealing an experience with unexpected layers: each time Molyenux destroyed one of the cube's 64 billion discrete parts it created a musical note, and a timed series of strikes contributed to a multiplier mechanic that built the player's score.
As each layer of the cube is depleted, 22 Cans will be able to change what effects striking the cube will create, and even layer images or messages on its surface. When Molyneux accessed the in-game store, it revealed a number of destructive items beyond the widely discussed chisels - the "diamond" version of which is on sale for $50,000 - including bombs and firecrackers.
Molyneux believes that, "we need to think completely differently about the problem of making games today," and Curiosity is the product of experimenting with a number of ideas that are key to modern development: persistence, co-operation and audience interaction across multiple devices and a range of inputs, all supported by a free-to-play business model.
But the appeal of the idea remains in its simplicity and focus. "The mistake I've always made is trying to focus on more than one thing," he said. "Experiment with simple mechanics. The scariest thing for a designer isn't complex stuff; the scary thing is simplicity. That's the place we don't want to go, and it certainly terrifies me."
While Molyneux's endorsement of Unity at a conference for Unity developers is hardly unexpected, he claimed that the accessibility of the engine has allowed 22 Cans to hire staff from a variety of different industries, and iterate on simple ideas without the need for deep technological understanding. This ability to "think differently" about game design is key to surviving in the broad, connected marketplace of today.
"People say that [Curiosity] is crazy, and it is crazy. But we've got to do something different. We've got to be crazy. We've got to experiment with these new things. We can't just lock ourselves away in ivory towers, coming up with a concept and just releasing it. Those days are gone. Forever."