PC shipments showed record decline in Q4 2015
IDC's data shows record-breaking 10.6 per cent drop, with Apple the only top five manufacturer making significant gains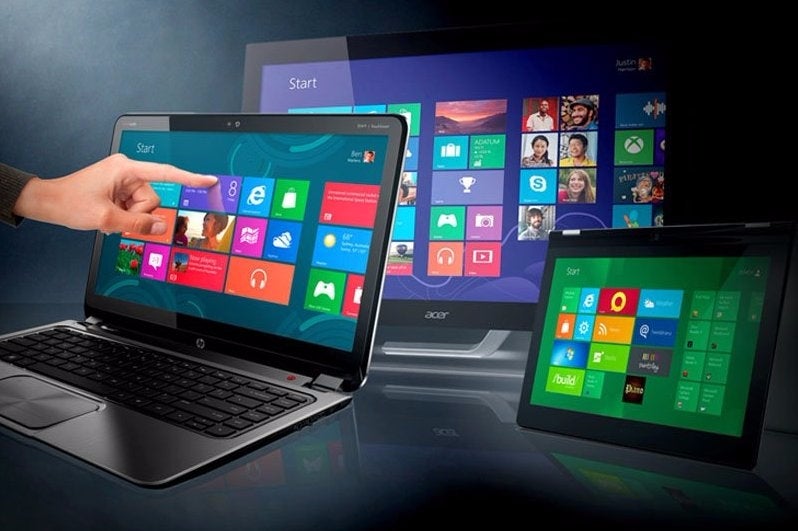 Global PC shipments dropped again in Q4 2015, and by the biggest margin since market research firm IDC started tracking the data more than 20 years ago.
PC shipments reached 71.9 million units in Q4 of calendar 2015, according to IDC, a record year-on-year drop of 10.6 per cent. Prior to this, the biggest quarterly drop was 9.8 per cent, recorded in 2013. This year was also the first since 2008 in which total shipments came in below 300 million units.
IDC cited a menagerie of contributing factors, including longer PC lifecycles, ongoing competition from smartphones and tablets, and broad economic trends like falling commodity prices and fluctuating international currencies. Indeed, IDC categorises the degree of decline as something of an outlier, evidence of, "the market...taking some time to respond to new OS and hardware configurations - deciding when to upgrade and evaluating slim, convertible, detachable, and touch variations vs. more traditional PCs."
IDC noted that sales of "detachable tablets" are recorded separately, despite the category having more in common with traditional PCs than a standard tablet. Had those sales been added to IDC's Q4 numbers, the decline would have narrowed to 5 per cent.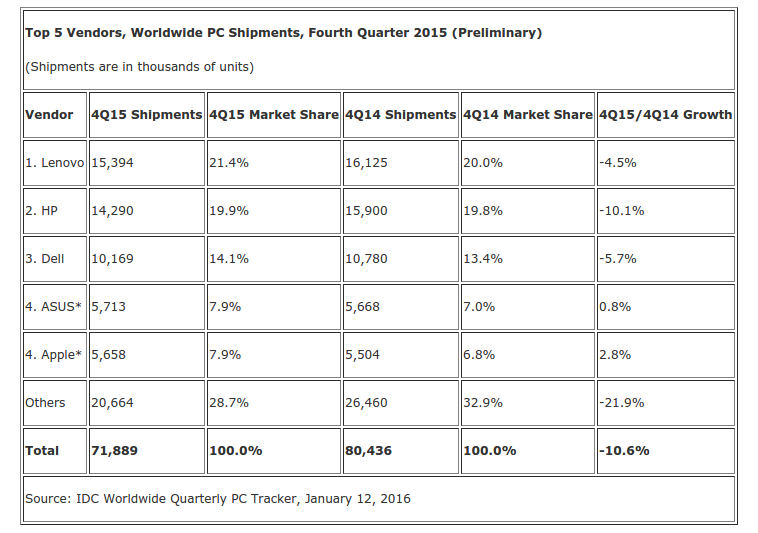 The table above shows that Apple was the only manufacturer among top five that showed reasonable growth in Q4. In that respect, IDC was in agreement with Gartner, another research firm that published a report on PC shipments.
In other respects, though, the two sets of data were slightly different. Gartner noted that Q4 was the fifth straight quarter of decline for global PC shipments, but it reported a slightly higher 75.7 million units, and a smaller decline of 8.3 per cent. Total shipments for the year were 288.7 million units.
Gartner analyst Mikako Kitagawa noted that, "holiday sales did not boost the overall PC shipments, hinting at changes to consumers' PC purchase behavior." The decline is expected to slow to 1 per cent in the coming year, largely due to a "soft recovery" in late 2016.